Frank* always enjoyed working with his hands. It didn't matter if he was tinkering under the hood of a classic car, building a backyard fort for his kids, fixing HVAC units at work, or playing the guitar—he did it all. His hands and fingers were everything to him. But that all changed a few years ago when he was diagnosed with Dupuytren's Disease, a hand condition that affects the connective tissue in the palm of the hand and gradually leads to a range of functional impairments. What started as a mild nuisance has now gotten to the point where two of Frank's fingers are stuck in a bent position. And he's not alone.
While rare, Dupuytren's Disease impacts about 15 million Americans—mostly men—age 35 and older. There is no cure for the condition currently, and it typically progresses very slowly and may not become troublesome for many years, if at all. Those whose condition does progress to the point where one or more fingers remain permanently bent or restricted can still reclaim full use of their hand through non-surgical and surgical treatments. But it's important to recognize the warning signs early and work with your doctor to determine the next steps.
What Causes Dupuytren's Disease?
Like previously mentioned, Dupuytren's Disease progresses very slowly. At first, a patient may notice lumps of tissue or nodules forming on the fascia tissue on the palm side of the hand. The fascia anchors and stabilizes the skin on your palm, but it's still supposed to feel thin and smooth to the touch. In many cases, these lumps may never progress to anything more. But that's not always the case. They can begin to thicken and tighten into thick, painless cords that act as a pulley system with the fingers. As a result, one or more fingers tethered to these thick cords begin to get pulled backward (contracture) toward the palm.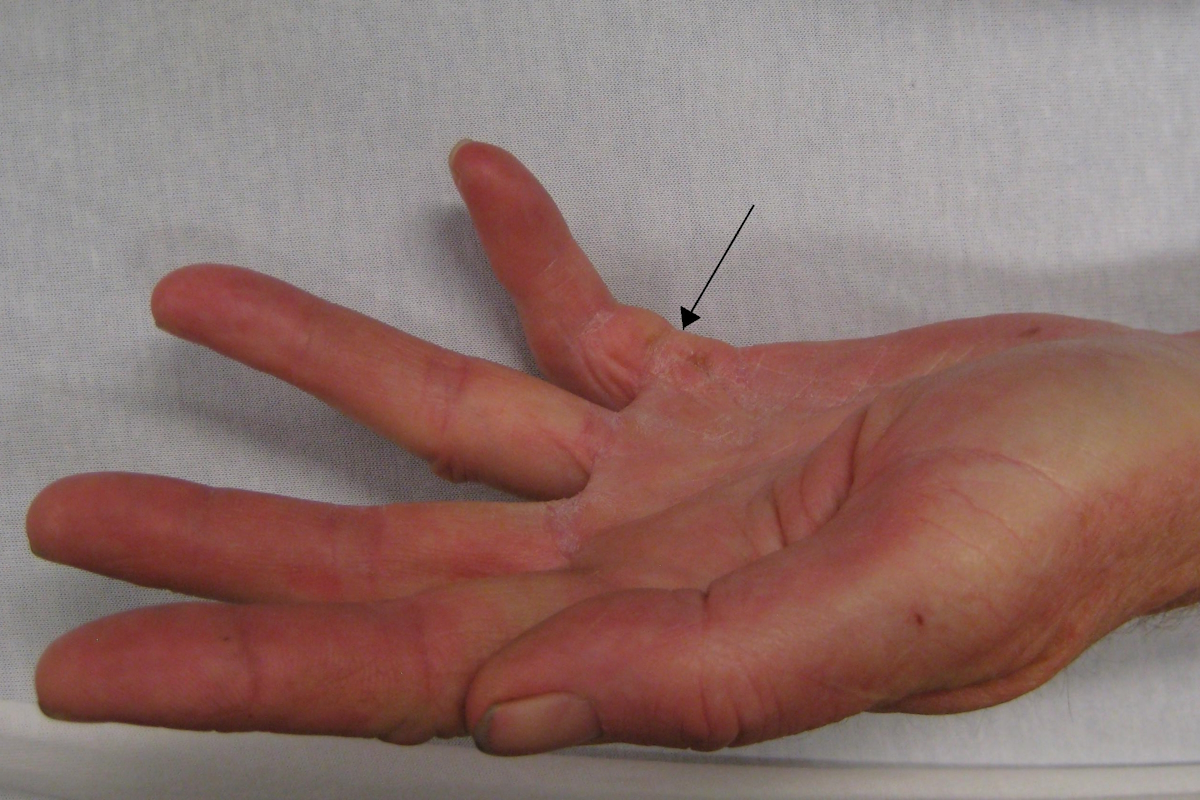 Any finger can be affected, though the most common ones are the two fingers farthest from the thumb. Over time, patients with severe or advanced Dupuytren's Disease find it impossible to straighten these fingers and can no longer perform everyday tasks most of us take for granted. This could include gardening, gripping objects, playing musical instruments, and even shaking someone's hand.
Though the exact cause of Dupuytren's disease is not known, several risk factors include:
Family history — The disease tends to run in families.
Gender — Dupuytren's Disease most often occurs in men, especially those over the age of 50. In women, it tends to appear later and be less severe.
Certain medical conditions — Those with diabetes or at risk for seizures are likely to develop Dupuytren's Disease. The condition may also present itself in people with vascular conditions or HIV and AIDS.
Ancestry — According to the American Academy of Orthopedic Surgeons, people of northern European (English, Irish, Scottish, French, and Dutch) and Scandinavian (Swedish, Norwegian, and Finnish) ancestry are susceptible.
Alcohol use — According to at least one study, regular heavy alcohol consumption, measured either by history or blood tests, was associated with a higher risk of Dupuytren's contracture.
Are Other Hand Growths or Tumors Similar to Dupuytren's?
If there is another hand growth or tumor that's more common than Dupuytren's Disease, it is the ganglion cyst. Unrelated to Dupuytren's, Ganglion cysts are fluid-filled growths of the wrist, hand, and finger that quickly appear, disappear, and change sizes. More often than not, they are painless and more of a cosmetic annoyance—they typically don't cause someone to lose hand function. With that said, an untreated ganglion cyst of the wrist could eventually limit a person's ability to move their wrist if it develops and presses on a nerve.
A ganglion cyst grows out of the tissue surrounding a joint or tendon and accounts for 60-70% of soft tissue masses in the hand and wrist. They are random in that most tend to go away without medical intervention. Other types of hand tumors or growths include warts, giant cell tumors of the tendon sheath, and epidermal inclusion cysts.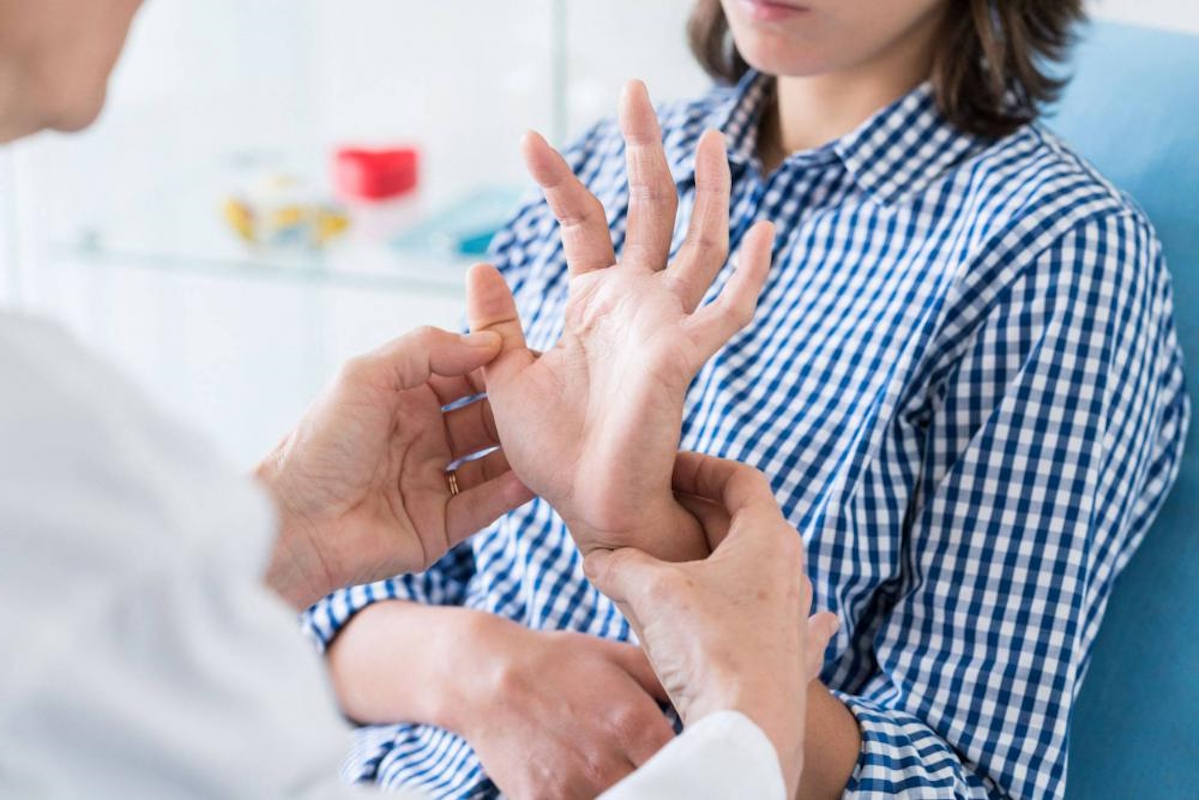 How Is Dupuytren's Disease Treated?
The first step in treating Dupuytren's Disease is to receive an official diagnosis from a Fort Worth hand doctor. While it's unlikely that this condition can be confused with a different hand growth or tumor, it's still important for your doctor to rule out any unforeseen causes or conditions. They will do this by doing a physical exam of your hand, including testing its mobility and range of motion to see how severe the contracture may be. They may follow with a blood test or X-rays, if necessary.
From there, treatment depends on each patient's unique situation.
Physical therapy, including stretching exercises
Bracing or splinting to maintain range of motion
Ultrasonic heat treatments to increase fascia flexibility
Steroid injections
Contracture surgery
With contracture surgery, your orthopedic surgeon will perform what's called a fasciectomy to remove some or all of the affected fascia. The procedure varies from patient to patient but typically involves using local anesthetic to numb the hand. From there, the doctor makes an incision in your palm and divides the thick cords of tissue to increase movement in the affected fingers.
Another surgical procedure is called a subtotal palmar fasciectomy. With this more extensive and invasive procedure, the doctor makes several incisions along the natural creases in your hand and attempts to remove as much of the abnormal tissue and cords as possible.
Fort Worth Hand Center Can Help With Dupuytren's Disease
There isn't anything you can do to prevent Dupuytren's Disease. It can develop without warning and could take months or even years to progress to symptoms that impact the quality of your life. Before you get to that stage, it's imperative that you seek help from a qualified hand doctor in Fort Worth. From the fingertips to the elbow, the Fort Worth Hand Center physicians treat everything from sports injuries and joint replacement to chronic conditions, age-related complications, trauma, carpal tunnel syndrome, and ganglion cyst of the wrist.
Some of the best orthopedic surgeons in Fort Worth are at Fort Worth Hand Center, as evident by the practice patient reviews. We're ready to help you today. To schedule an appointment, call 817-877-3277 or complete the form below. Everyone is welcome at Fort Worth Hand Center!
This information is not a substitute for professional medical advice. Prior to starting any new treatment or if you have questions regarding a medical condition, always seek the advice of your doctor or other qualified health provider.
Fort Worth Hand Center serves the DFW area, including Dalworthington Gardens, Edgecliff Village, Euless, Everman, Flower Mound, Forest Hill, Fort Worth, Grand Prairie, Grapevine, Haltom City, Haslet, Hurst, Keller, Kennedale, Lakeside, Lake Worth, Mansfield, Newark, North Richland Hills, Pantego, Pelican Bay, Richland Hills, River Oaks, Saginaw, Sansom Park, Southlake, Trophy Club, Watauga, Westlake, Westover Hills, Westworth Village, White Settlement, Arlington, Azle, Bedford, Benbrook, Blue Mound, Burleson, Colleyville, Crowley, Dallas, and all of North Texas.
*Patient stories are true. Names and/or photos may be changed to protect patient confidentiality.