In all the years Cameron* played baseball, he'd never experienced an injury. That is until last spring when he tried to defend himself from a foul ball while standing in the dugout during practice. He didn't have his glove on at the time, and the ball hit the tip of his pinky finger as he put out his right hand. His finger immediately bent awkwardly from the force of the injury. At first, he figured it was a run-of-the-mill jammed finger that would heal on its own in a week or so. The problem is that it wasn't healing. In fact, he's been unable to straighten the tip of his finger for weeks. After finally visiting the doctor, he was told he had a tendon injury known as mallet finger. 
Many people may grow concerned when hearing the term mallet finger for the first time. After all, any injury that's given an official name must be serious—and potentially permanent. The good news is that mallet finger injuries are more common than you think and can typically be treated successfully with splinting to hold the fingertip straight until it heals. The trick is to visit an orthopedic surgeon quickly for an accurate diagnosis.
Do any of these symptoms sound familiar?
Pain and/or swelling in the injured finger
A noticeable droop or bend in the tip of the finger
Inability to straighten the fingertip unless you push it up with your other hand
Bruising and redness at the injury site
A detached fingernail
While very painful when the injury first occurs, mallet finger is not life-threatening and typically isn't permanent as long as it is treated quickly. Nonetheless, it's understandable to be concerned when the tip of your finger is stuck in a drooped or bent position. Our fingers allow us to hold, grab, climb, carry our body weight, and even manipulate small objects with great precision. We rely on them not only to work but to do so in unison. So, when one of them stops working or is in pain, we can't do the things we enjoy doing. Mallet finger is certainly an example of that.
Mallet finger is an injury to the thin tendon that straightens the end joint of a finger or thumb. Depending on the severity of the injury, there may be a rupture in the middle of the tendon, or the tendon could be pulled away from where it attaches to the finger bone. In severe and very rare cases, a small piece of bone is pulled away along with the tendon. This is called an avulsion injury and could require surgery.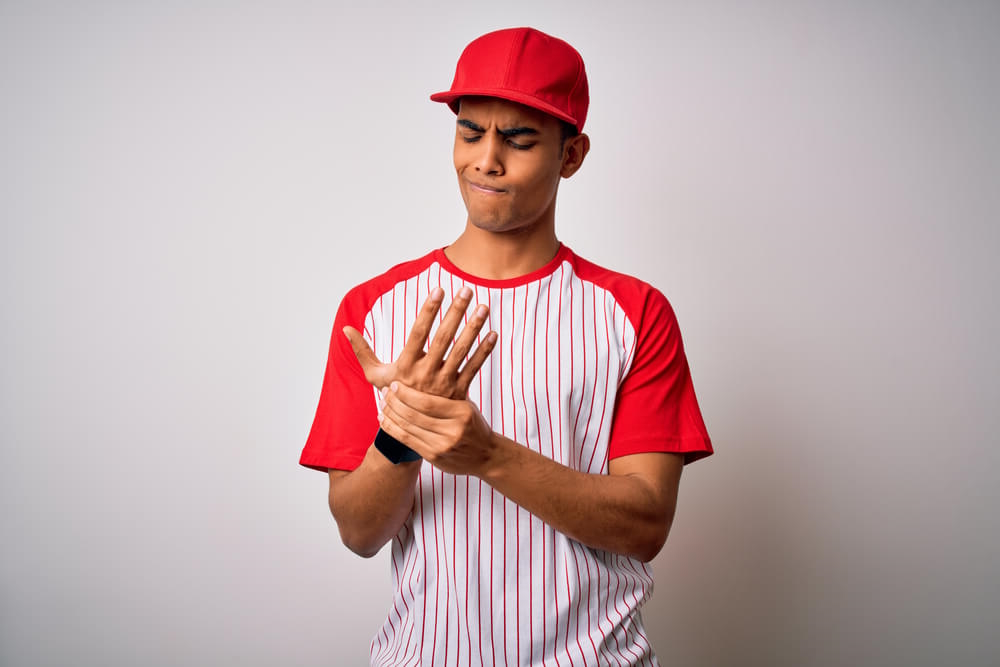 Mallet finger is also referred to as baseball finger because it most commonly happens to baseball players. In Cameron's case, the baseball hit his finger with such precise force that it caused a rupture near where the tendon attaches to the finger bone. As a result, his fingertip bent awkwardly and further than intended, resulting in a bent posture on the tip of the digit. 
But it can happen in any sport that involves hard balls (basketball, football, volleyball, etc.). There are also several ways to suffer a mallet finger that have nothing to do with sports. Some of the more surprising ones might include:
Getting a finger caught in a door
Tucking in a bedsheet or a shirt
Work-related activities
Putting on socks
Catching your finger on something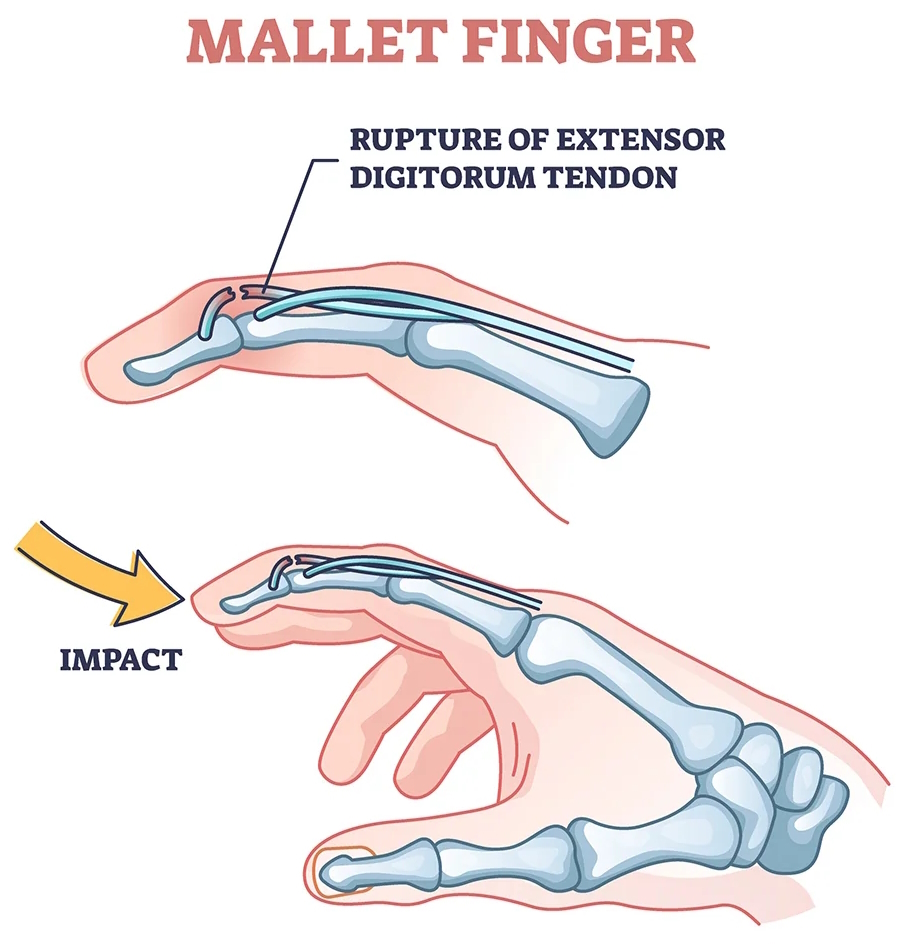 Can Mallet Finger Heal On Its Own?
Mallet finger is not something you want to just "let be" and expect it to heal on its own. In fact, it is recommended that you seek treatment within a week of the initial injury. If you do nothing, the finger will remain bent and could likely result in limited function moving forward, permanent stiffness, or deformity of the finger.
Conservative treatment involves a physical examination where your doctor will ask you to try performing a series of movements to see if you can straighten your finger on your own. This is followed by X-rays to confirm a tendon rupture and if there are any bone alignment issues. From there, your doctor will likely splint the affected fingertip for at least six weeks to allow the tendons to heal.
If you have a severe case of mallet finger, you may be curious about what is done for mallet finger surgery. The process involves your orthopedic surgeon making a small incision and inserting a pin or wire to help keep your finger straight as the injury heals. It is an outpatient process, meaning there is no need for a hospital stay.
Regardless of whether your treatment options are surgical or not, most patients experience quality outcomes.
Experiencing Mallet Finger? Fort Worth Hand Center Can Help
Imagine treatment from healthcare professionals who cater to athletes. This is what our Fort Worth sports medicine orthopedic doctors do. We constantly work with athletes from peewee level to the professionals who have suffered a variety of finger, wrist, and hand injuries—including conditions like mallet finger—due to the sport they love.
From the fingertips to the elbow, the Fort Worth Hand Center physicians treat everything from sports injuries and joint replacement to chronic conditions, age-related complications, and trauma. Whether traditional surgery or non-surgical techniques, our expert doctors will thoroughly explain all your options and get you back to your favorite activities.
Some of the best orthopedic surgeons in Fort Worth are at Fort Worth Hand Center, as evident by the practice reviews. We're ready to help you today. To schedule an appointment, call 817-877-3277 or complete the form below. Everyone is welcome at Fort Worth Hand Center!
This information is not a substitute for professional medical advice. Prior to starting any new treatment or if you have questions regarding a medical condition, always seek the advice of your doctor or other qualified health provider.
Fort Worth Hand Center serves the DFW area, including Fort Worth, Grand Prairie, Grapevine, Haltom City, Haslet, Hurst, Keller, Kennedale, Lakeside, Lake Worth, Mansfield, Newark, North Richland Hills, Pantego, Pelican Bay, Richland Hills, River Oaks, Saginaw, Sansom Park, Southlake, Trophy Club, Watauga, Westlake, Westover Hills, Westworth Village, White Settlement, Arlington, Azle, Bedford, Benbrook, Blue Mound, Burleson, Colleyville, Crowley, Dallas, Dalworthington Gardens, Edgecliff Village, Euless, Everman, Flower Mound, Forest Hill, and all of North Texas.
*Patient stories are true. Names and/or photos may be changed to protect patient confidentiality.