A few years ago, Ericka noticed a random lump on her wrist. She didn't think much of it at the time because it wasn't painful and didn't interfere with her daily activities. But the longer it stayed there and changed sizes, the more concerned Ericka became. A trip to the doctor determined that she had a ganglion cyst of the wrist. The good news was that the condition is common, typically harmless, and very treatable.
Ganglion cysts, also known as bible cysts, are very common fluid-filled growths of the wrist, hand, and finger that quickly appear, disappear, and change sizes. They arise out of a joint, like a balloon on a stalk. Often, they are painless and more of a cosmetic annoyance. With that said, an untreated ganglion cyst of the wrist could eventually limit the ability to move your wrist, making bending or strengthening your wrist difficult and/or painful. It can also cause patients to feel irritation, pain or tingling if the cyst is pressing against nerves, ligaments, or arteries.
Do Any of These Symptoms Sound Familiar?
A soft lump that changes size but doesn't move
Can disappear and return later
Pain and swelling
Tingling
Muscle weakness
Difficulty in bending the wrist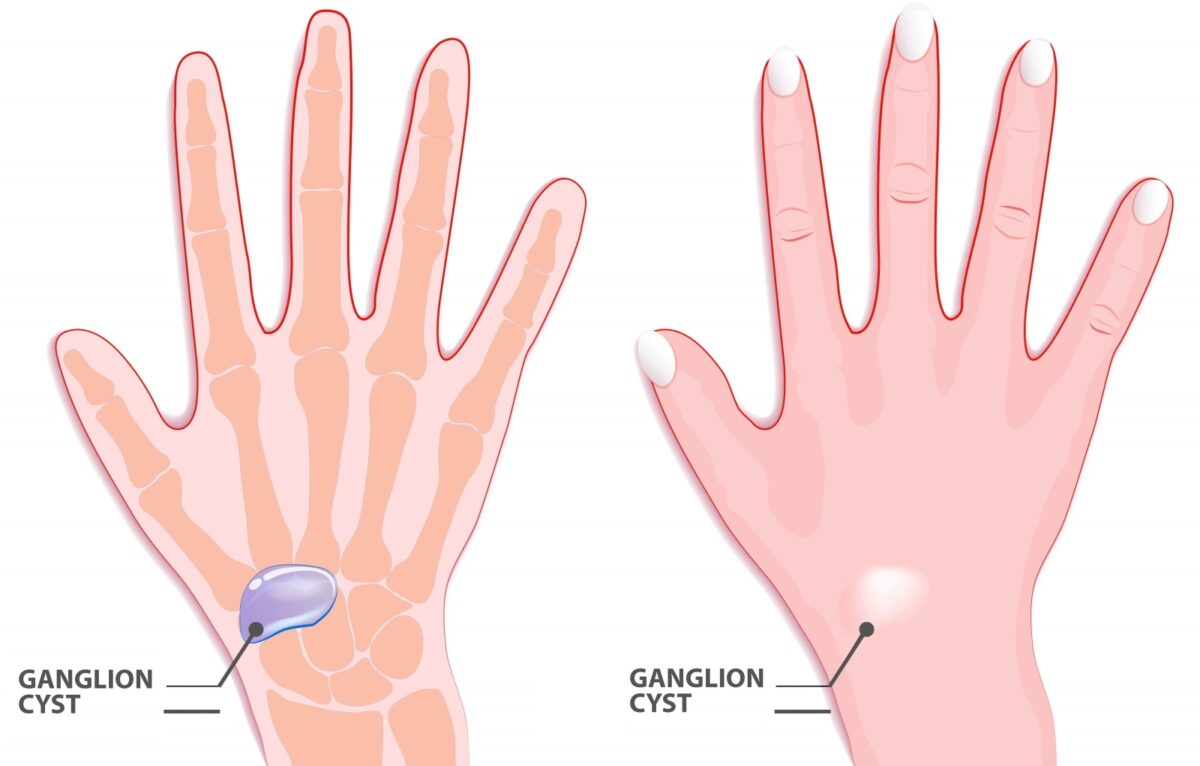 Ganglion cyst of the wrist is non-cancerous. It grows out of the tissues surrounding a joint, such as ligaments, tendon sheaths, and joint linings. Inside the balloon is a thick, sticky, clear, colorless, jellylike material, like fluid that lubricates your joints. Depending on the size, a cyst may feel firm or spongy. It is typically located on the back of the wrist. However, ganglion cysts can develop on the underside of the wrist as well as the end joint of a finger or on the hand.
Your orthopedic surgeon will properly diagnose a ganglion cyst and discuss possible treatment options.
What Causes a Ganglion Cyst?
A ganglion cyst grows out of the tissue surrounding a joint or tendon and accounts for 60-70% of soft tissue masses found in the hand and wrist. They can be as small as a pea to as large as a golf ball, and they can also be soft or firm. With that said, no one really knows a definitive cause for ganglion cyst of the wrist. They're random in the sense that they can come and go, and most tend to go away without any medical intervention.
Anyone can develop a ganglion cyst, though there are individuals who appear to be more high risk.
Women — Several studies suggest that women are three times more likely to develop a ganglion cyst than men. They typically occur in women between the ages of 20 and 50.
Athletes — Ganglion cyst of the wrist is also frequently encountered amongst athletes such as gymnasts and even weightlifters whose careers and interests demand repeated wrist activities.
Osteoarthritis patients — According to the Mayo Clinic, people who have wear and tear arthritis in their wrists and fingers are at a higher risk of developing a cyst near those joints.
Injury — Ganglion cysts tend to form near or on joints and previously injured tendons.
How Is a Ganglion Cyst of the Wrist Diagnosed?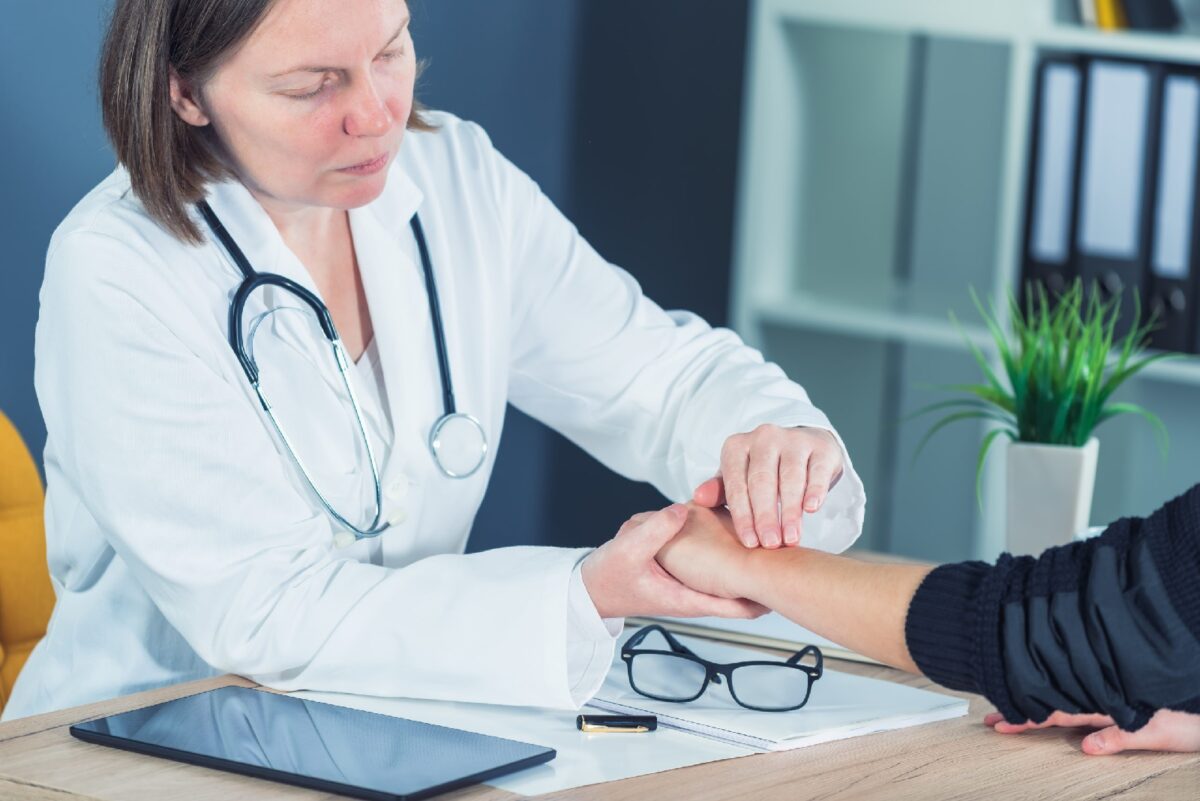 Your orthopedic doctor will perform a physical exam, applying pressure to the cyst to check for discomfort or tenderness. Additionally, transillumination—shining a light through the cyst—can test if it is filled with fluid or a solid mass. In some cases, an orthopedic surgeon may recommend diagnostic imaging like X-rays, ultrasound, or MRI to rule out other conditions, such as arthritis, a tumor or hidden (occult) cysts.
How Do You Make a Ganglion Cyst Go Away?
Many times, the answer to this question is to do nothing at all. A ganglion cyst of the wrist is benign, harmless, and may disappear on its own with time. In fact, your hand and wrist doctor will likely suggest an ultra-conservative "wait-and-see approach" — especially if you're not in pain or limited in activities.
If the ganglion cyst is making certain movements or tasks difficult, you are in pain, or you are self-conscious about the ganglion cyst from a cosmetic perspective, there are a few options:
Immobilization — As previously mentioned, a ganglion cyst can be associated with repeated wrist activities. So, one option is to use a brace or splint to limit activity and relieve possible symptoms.
Aspiration — Another option is to drain the cyst, which is merely made up of fluid. With this procedure, your doctor can puncture the cyst with a needle and remove the fluid.
Surgery — Ganglion cyst removal surgery is an outpatient procedure called a ganglionectomy that can be performed under local or general anesthesia. Surgery can be particularly beneficial in the sense that a patient will no longer have to worry about the ganglion cyst on the wrist growing back. Patients typically get to go home the day of surgery. Full recovery takes two to six weeks.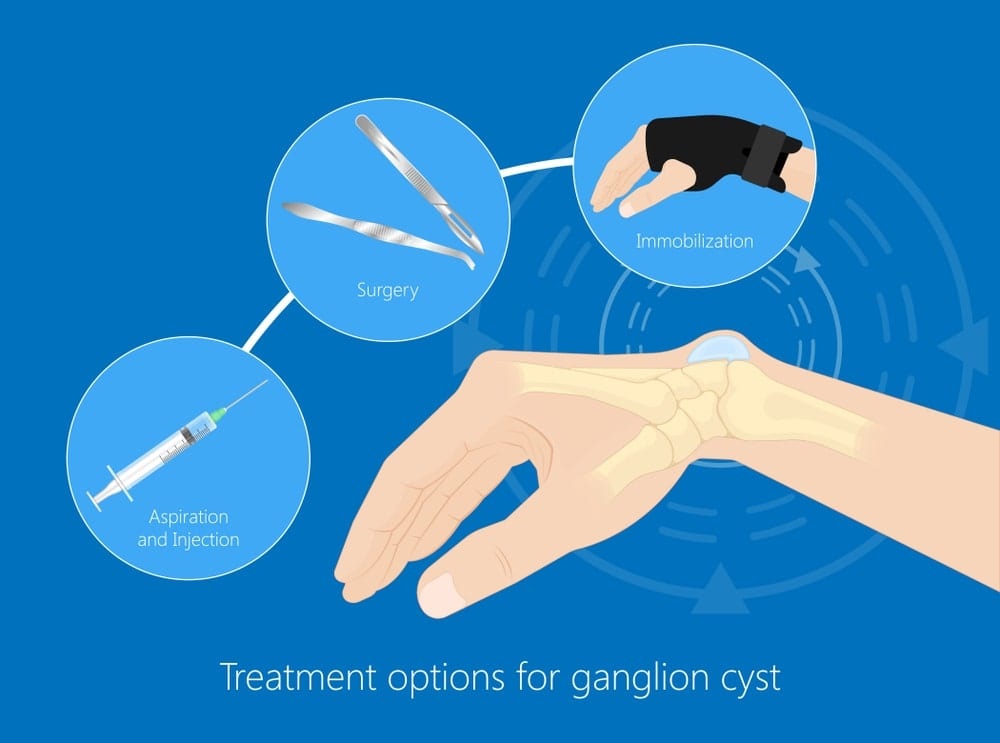 Orthopedic surgeons are specialty trained to perform intricate procedures on the body's joints and other soft tissues. Your Fort Worth Hand Center surgeon may use traditional techniques or arthroscopy with tiny incisions. In some cases, surgeons may use tissue from a nearby joint to fully repair the area.
It is worth noting that it can be tempting for many people with a ganglion cyst of the wrist to want to pop or puncture the cyst themselves through various home remedies. One includes using a needle or cutting into the cyst with a knife. Another is an old folk remedy suggesting striking the cyst with a heavy object like a book.
Neither of these remedies is advisable. The result can be anything from an infection or risk of reoccurrence to injuring the area around the cyst and causing you unnecessary pain in addition to what you're experiencing with the cyst.
Fort Worth Hand Center Treats Ganglion Cyst of the Wrist
Do you suffer from hand or wrist pain and don't know where to turn? From the fingertips to the elbow, the Fort Worth Hand Center physicians treat everything from sports injuries and joint replacement to chronic conditions, age-related complications, trauma, carpal tunnel syndrome, and ganglion cyst of the wrist.
The best orthopedic surgeons in Fort Worth are at Fort Worth Hand Center, as evident by the practice reviews. We're ready to help you today. To schedule an appointment, call 817-877-3277 or complete the form below. Everyone is welcome at Fort Worth Hand Center!
This information is not a substitute for professional medical advice. Prior to starting any new treatment or if you have questions regarding a medical condition, always seek the advice of your doctor or other qualified health provider.
Fort Worth Hand Center serves the DFW area, including Fort Worth, Grand Prairie, Grapevine, Haltom City, Haslet, Hurst, Keller, Kennedale, Lakeside, Lake Worth, Mansfield, Newark, North Richland Hills, Pantego, Pelican Bay, Richland Hills, River Oaks, Saginaw, Sansom Park, Southlake, Trophy Club, Watauga, Westlake, Westover Hills, Westworth Village, White Settlement, Arlington, Azle, Bedford, Benbrook, Blue Mound, Burleson, Colleyville, Crowley, Dallas, Dalworthington Gardens, Edgecliff Village, Euless, Everman, Flower Mound, Forest Hill, and all of North Texas.