We use our hands and wrists for everything. So, it stands to reason that millions of people worldwide will suffer from some form of repetitive sprain or strain at some point in their lifetime. Many times, we can pinpoint the exact reason for the pain—perhaps it was too much typing while working, gripping too many heavy weights at the gym, or even as simple as lifting your child. But other times, the pain and swelling occur gradually or suddenly with no obvious cause. After all, you're just living your life like normal. As a result, you're left wondering, "Why is that hurting all of a sudden?" A perfect example is de Quervain's tendinitis, a painful condition affecting the tendons on the thumb side of the wrist.
You'd be hard-pressed to find many people who have heard of de Quervain's tendinitis. All they know is that their thumb hurts. But it is well known in the orthopedic world and easily one of the most common types of tendon lining inflammation, affecting around 1% of people—mostly women—in the U.S. each year. The good news is that de Quervain's tendinitis is highly treatable and rarely involves surgery. The key is to recognize the warning signs early so you can get back to doing the things you enjoy the most in life.
Do any of these symptoms sound familiar?
Pain and/or swelling near the base of the thumb
Radiating pain from your wrist (on the thumb side) into your thumb and forearm
Pain that worsens when gripping or pinching objects
A snapping, sticking, or popping feeling in the wrist when you move your thumb
Stiffness and numbness in the wrist or thumb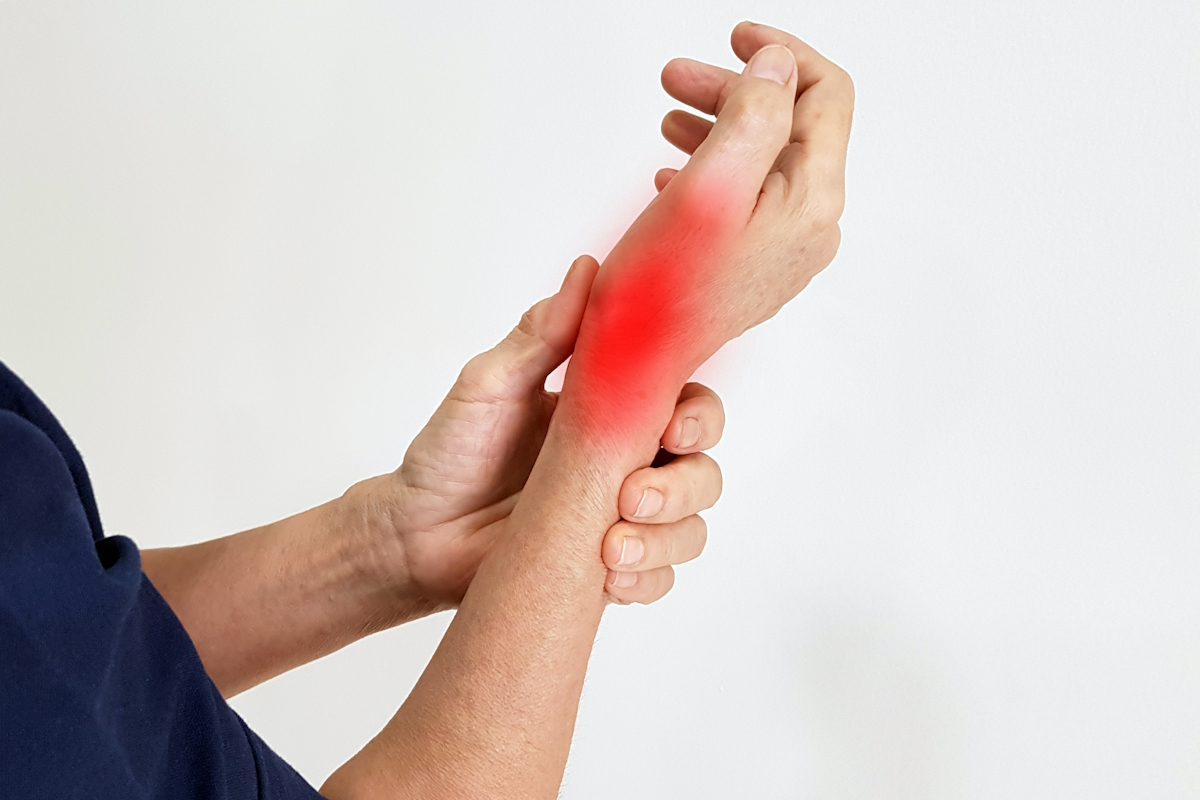 Your orthopedic surgeon will properly diagnose de Quervain's tendinitis and discuss possible treatment options.
What Causes de Quervain's Tendinitis?
As previously mentioned, de Quervain's tendinitis, also called de Quervain's tenosynovitis, can develop slowly or suddenly. At first, a patient may experience pain at the base of their thumb. More often than not, that pain can also radiate into the wrist and forearm. This is because of inflammation around the two tendons connecting your thumb to your wrist. In a healthy wrist, these tendons slide easily back and forth through a sheath. The problem arises when that sheath thickens and becomes swollen, causing friction when using the thumb and wrist. As a result, you experience many of the symptoms mentioned above.
The pain you're likely experiencing with de Quervain's tendinitis is often worse when moving the thumb, turning the wrist, forming a fist, or grasping or gripping something. And as we all know, those are typical movements we use for a variety of activities in everyday life. Has this ever happened to you? You're simply picking up your child to hug them and suddenly feel a surge of pain near the base of your thumb. You've been planting flowers and shrubs in the yard for three days straight and notice that it's getting harder and harder to grip or pinch your digging tools.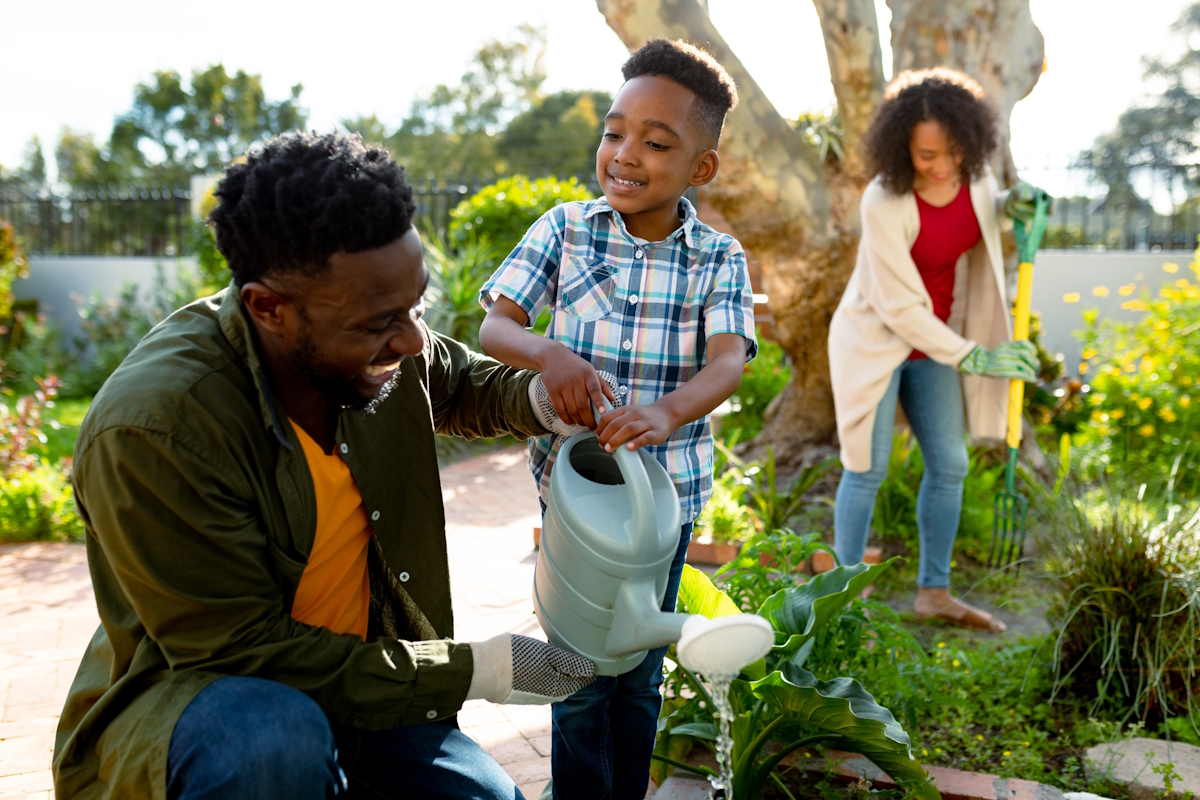 de Quervain's tendinitis Risk Factors
Though the exact cause of de Quervain's tendinitis is not known, several risk factors include:
Sports with repetitive movements — Sports like tennis, racquetball, skiing, basketball, volleyball, weightlifting, etc., all involve repetitive bending, twisting, and gripping with the wrist and hand. Couple that with increased training time, micro-trauma, and injury, and the likelihood of de Quervain's tendinitis increases dramatically.
Gender — De Quervain's tendinitis most often occurs in women (including pregnant women), especially those between the ages of 30 and 50. With that said, anyone at any age can be diagnosed with this condition.
Parents with young children — De Quervain's tendinitis is also commonly called "mommy's thumb," "parent thumb," or "baby wrist" as a result of the increased pressure involved in repetitively picking up and carrying a child with your arms in front of you and thumbs pointed toward the ceiling.
Certain hobbies or jobs — Certain hobbies, such as gardening, can cause increased pressure on the wrist. Jobs that might lead to the same condition include childcare, manual labor with tools and machines, computer-related work, hairdressing, construction, artists, painters, etc.
Rheumatoid arthritis — People who have already been diagnosed with rheumatoid arthritis may be more susceptible to de Quervain's tendinitis.
Injury — Any direct injury to the wrist can lead to scar tissue that restricts movement in your tendons.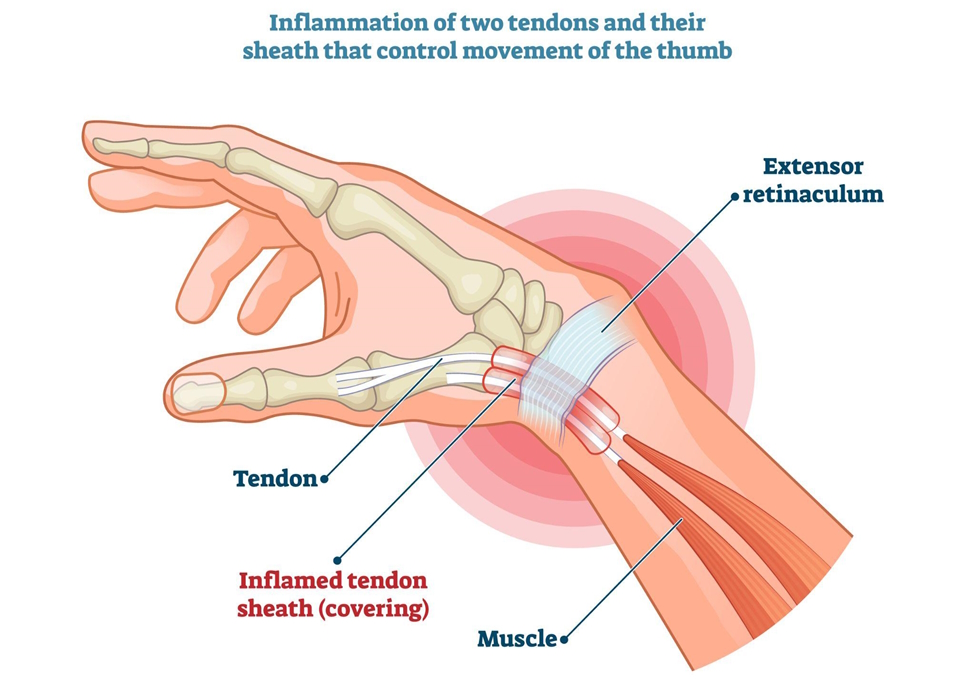 How Is de Quervain's Tendinitis Treated?
The good news is that de Quervain's tendonitis is temporary for many people. In fact, it may only take a few weeks for your tendons to heal after diagnosis, especially when caught early and treated appropriately to reduce symptoms from worsening. With that said, assuming the condition will go away on its own could lead to a limited range of motion in the wrist and thumb and the possibility of the protective sheath bursting. The first step in treating de Quervain's tendinitis is to receive an official diagnosis from a Fort Worth hand doctor.
While it's unlikely that this condition can be confused with a different condition, it's still important for your doctor to rule out any unforeseen causes or conditions. They'll do this by doing a physical exam of your hand, including testing its mobility and range of motion to see how severe your symptoms are. Your doctor may follow with x-rays, if necessary.
From there, treatment depends on each patient's unique situation. Options include:
Physical therapy, including stretching exercises and ways to reduce stress on your wrist
Avoiding repetitive hand and wrist motions that cause pain and swelling
Using ice packs on your wrist for 20 minutes at a time a few times a day
Non-steroidal anti-inflammatory drugs can reduce inflammation and relieve pain
Bracing or splinting for a few weeks gives your thumb and wrist a chance to heal
Steroid injections into the tendon sheath
Surgery
Fort Worth Hand Center Can Help With De Quervain's Tendinitis
Sadly, some people are bound to experience de Quervain's tendinitis at least once in their lifetime due to the fact that we use our wrists and hands for literally everything. It can develop without warning or over time and limit how much you can do without constantly being in pain. Before you get to that stage of the game, it's imperative that you seek help from a qualified Fort Worth hand doctor.
From the fingertips to the elbow, Fort Worth Hand Center treats everything from sports injuries and joint replacement to chronic conditions, age-related complications, and trauma. Our experienced and talented team is committed to working with you to create a pleasant experience at every visit.
Our expert Fort Worth hand surgeons focus on patient satisfaction, as evident by patient reviews. We care about our patients and strive to provide the best care. To learn more or to schedule an appointment, call 817-877-3277 or complete the form below.
Fort Worth Hand Center serves the DFW area, including Flower Mound, Forest Hill, Fort Worth, Grand Prairie, Grapevine, Haltom City, Haslet, Hurst, Keller, Kennedale, Lakeside, Lake Worth, Mansfield, Newark, North Richland Hills, Pantego, Pelican Bay, Richland Hills, River Oaks, Saginaw, Sansom Park, Southlake, Trophy Club, Watauga, Westlake, Westover Hills, Westworth Village, White Settlement, Arlington, Azle, Bedford, Benbrook, Blue Mound, Burleson, Colleyville, Crowley, Dallas, Dalworthington Gardens, Edgecliff Village, Euless, Everman, and all of North Texas.
This information is not a substitute for professional medical advice. Prior to starting any new treatment or if you have questions regarding a medical condition, always seek the advice of your doctor or other qualified health provider.
*Patient stories are true. Names and/or photos may be changed to protect patient confidentiality.