Our fingers allow us to hold, grab, climb, carry our body weight, and even manipulate small objects with great precision. We rely on them not only to work but to do so in unison. So, what happens when one of them stops working? Maybe you're experiencing stiffness in one finger, or you can't straighten it. This is called trigger finger and how it is treated depends on the severity of the issue.
Trigger finger is a common condition that can lead to a trip to an orthopedic surgeon. Your symptoms may start small with mild discomfort at the base of the finger or thumb but eventually worsen.
Do Any of These Trigger Finger Symptoms Sound Familiar?
Limited finger movement
Stiffness
A finger that is stuck or locked in a bent position
Difficulty straightening the affected finger
Pain, popping, or a "catching" sensation
Tenderness or a bump at the base of one finger
Trigger finger affects any finger, including the thumb. More than one finger can be affected at the same time on one or both hands. Your hand doctor will accurately diagnose trigger finger.
What Causes Trigger Finger?
Hearing the term trigger finger sparks visions of the Old West and a showdown in front of the saloon between two gunslingers. While those gunmen have their fingers bent and in the ready position to grab and pull the trigger on their pistol, your trigger finger isn't as useful. This condition, also known as stenosing tenosynovitis or trigger thumb, is when one of your fingers is literally stuck in a bent position.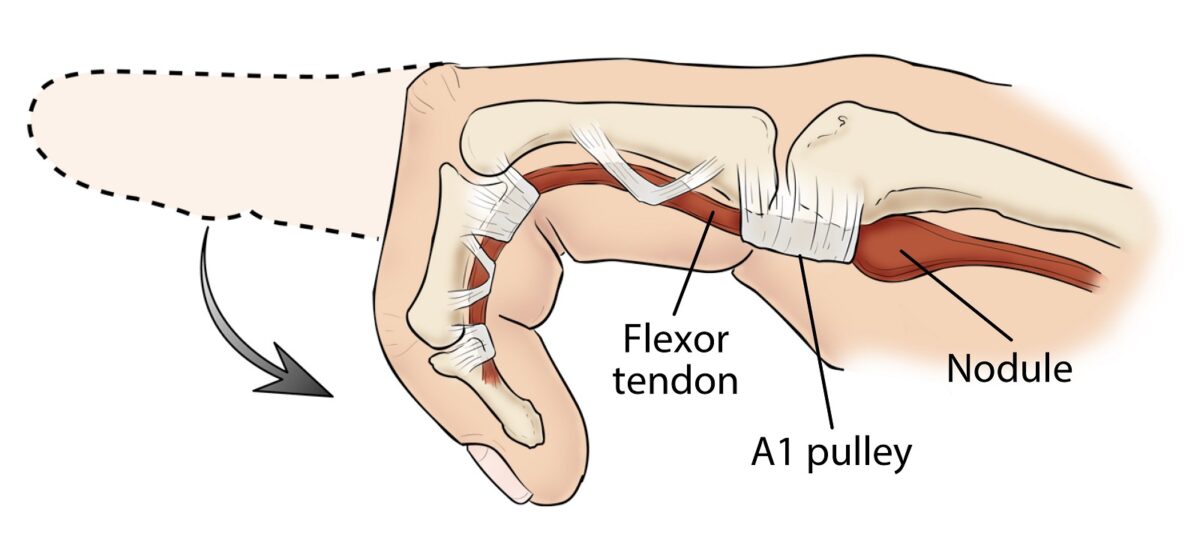 If you can forcefully straighten your finger out of this locked position, there is typically a snap or popping sound—and it can be incredibly painful. This is because the pulleys or protective sheaths in your finger have become too thick or inflamed, and your tendons can no longer glide seamlessly through them.
Trigger finger can affect anyone, but there are generally four factors that make some people high risk.
Risk Factors for Trigger Finger
Gender and Age — Trigger finger is six times more common in women than men. Some suggest estrogen changes in women lead to increased swelling in tendons and joints. Women and men in their 40s and 50s are also at risk.
Medical conditions and injuries — People with diabetes, gout, or rheumatoid arthritis are at higher risk. People who have experienced a hand or finger injury in the past are also susceptible, as are those who suffer from carpal tunnel syndrome or have had carpal tunnel syndrome surgery.
Certain occupations — Trigger finger is usually seen in people whose jobs require repeated, forceful, or prolonged hand use or gripping. Examples include assembly line workers, farmers, gardeners, mechanics who use power tools, and woodworkers. People who regularly hunt or fire weapons can also develop this painful condition.
Repetitive hobbies — Musicians, jewelry making, cross-stitching, sewing, weightlifting, digging with your hands, and using scissors are repetitive actions that can lead to trigger finger.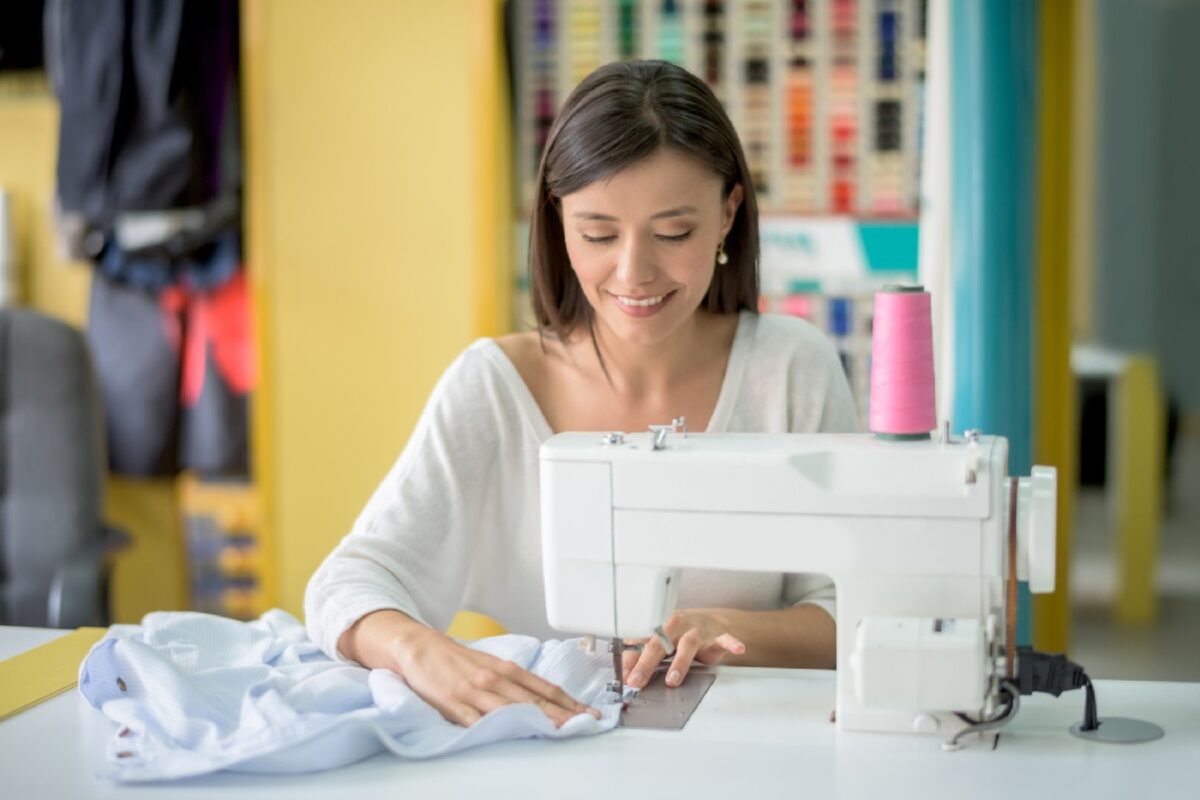 Can Trigger Finger Heal on Its Own?
Severe cases of trigger finger where a finger is locked in the bent position may require surgery. But many times, treatment is conservative. Your doctor will perform a thorough examination before suggesting a few options depending on the severity and duration.
Trigger Finger Treatment Options
Medications — Non-steroidal anti-inflammatory drugs keep inflammation low and reduce pain.
Rest — Good old-fashioned rest, including limiting or stopping activities that make your symptoms worse, has been a treatment option for trigger finger.
Splint — Your doctor may have you wear a splint at night to maintain an extended position and rest the tendon.
Stretching exercises — Gentle exercises and physical therapy are natural, non-invasive approaches to relieving nerve interference, reducing pain, and improving physical function.
Surgery — If your symptoms do not improve, steroid injections or surgery may be an option. Your doctor will make a small incision near the base of your finger and cut open the constricted area of the tendon pulley.
The Top Fort Worth Hand Surgeons
Are you tired of living with pain in your hands and upper extremities? From the fingertips to the elbow, the Fort Worth Hand Center physicians treat everything from sports injuries and joint replacement to chronic conditions, age-related complications, and trauma. Whether traditional surgery or non-surgical techniques, our expert doctors will thoroughly explain all your options and get you back to your favorite activities. To make an appointment with the best Texas orthopedics in Fort Worth, call 817-877-3277 or complete the form below.
Fort Worth Hand Center serves the DFW area, including Westlake, Westover Hills, Westworth Village, White Settlement, Arlington, Azle, Bedford, Benbrook, Blue Mound, Burleson, Colleyville, Crowley, Dallas, Dalworthington Gardens, Edgecliff Village, Euless, Everman, Flower Mound, Forest Hill, Fort Worth, Grand Prairie, Grapevine, Haltom City, Haslet, Hurst, Keller, Kennedale, Lakeside, Lake Worth, Mansfield, Newark, North Richland Hills, Pantego, Pelican Bay, Richland Hills, River Oaks, Saginaw, Sansom Park, Southlake, Trophy Club, Watauga, and all of North Texas.
This information is not a substitute for professional medical advice. Prior to starting any new treatment or if you have questions regarding a medical condition, always seek the advice of your doctor or other qualified health provider.