Many of us don't think about an injured elbow until it happens. Then the pain, swelling, and limited mobility become all we can think about. After all, the elbow is one of the largest joints in the body and gives the arm an incredible amount of versatility and durability. When it's working fine, we can swing a tennis racket, pick up a laundry basket, pull a door open, and even wave goodbye to a friend. So naturally, it can be frustrating when one or both elbows hurt, become stiff, and stop functioning. Thankfully, there are numerous physical therapy exercises to heal your injured elbow without surgery and get you back to doing what you enjoy the most.
Elbow injury causes range from tendonitis and fractures to nerve compression, arthritis, sports injuries, and work-related overuse. It's important to visit with an orthopedic surgeon like ours here at Fort Worth Hand Center to receive a proper diagnosis of your injured elbow and customized treatment plan.
Our specialist are experts in orthopedic surgery. However, we may recommend physical therapy elbow exercises to see if a conservative approach makes sense first.
Are You Experiencing Any of These Injured Elbow Symptoms?
Pain or burning on the inner part of the elbow
Difficulty flexing the wrist toward the forearm
Forearm, hand, and wrist pain
Numbness, tingling, and stiffness
Difficulty making a fist
Pain when shaking someone's hand
Difficulty moving the elbow
Swelling and tenderness
Why Physical Therapy Can Help
Musculoskeletal pain is the No. 1 reason people visit their doctors each year. Because we use our hands, fingers, arms, and elbows for everything, there are so many ways we can put them at risk. Physical therapy, also known as physiotherapy, has been around since the early 1800s. It helps patients manage elbow pain by increasing mobility, improving strength, creating proper alignment, and restoring function. Injured elbow exercises can be customized to meet the needs of each patient no matter their age, restrictions, condition, or injury type.
There are typically two types of elbow pain: pain on the inside of the elbow (medial pain) and pain on the outside of the elbow (lateral elbow pain). In most situations, these are caused by gripping, opening jars, climbing, and sports such as golf and tennis. And in many cases, elbow pain isn't serious and will go away on its own. In some cases, surgery may be the best option recommended by your doctor. In other situations, physical therapy exercises are the first option to try.
Before any treatment plan is put in place, your doctor will perform a thorough examination of your elbow, forearm, wrist, and hands while asking you a series of questions to determine if your symptoms are related to daily activities or a specific injury. In some cases, your doctor may perform additional tests such as X-rays, ultrasound, an MRI, and other lab tests to check for any other potential abnormalities. To aid recovery, treatment might also include:
Medications — Non-steroidal anti-inflammatory drugs to keep inflammation low and reduce symptoms.
Strengthening exercises — Physical therapy along with light stretching of the forearm are highly effective.
Support braces — Using a brace around your elbow and forearm provides extra support when activity is a must.
Alternative therapies — Chiropractic and acupuncture can relieve nerve interference and improve physical function.
Corticosteroid injections — Corticosteroids can reduce inflammation in severe cases of elbow pain.
Surgery — If necessary, your doctor may advise on surgery as the best way to relieve the issue.
7 Common Physical Therapy Exercises for Your Injured Elbow
1. Elbow Bend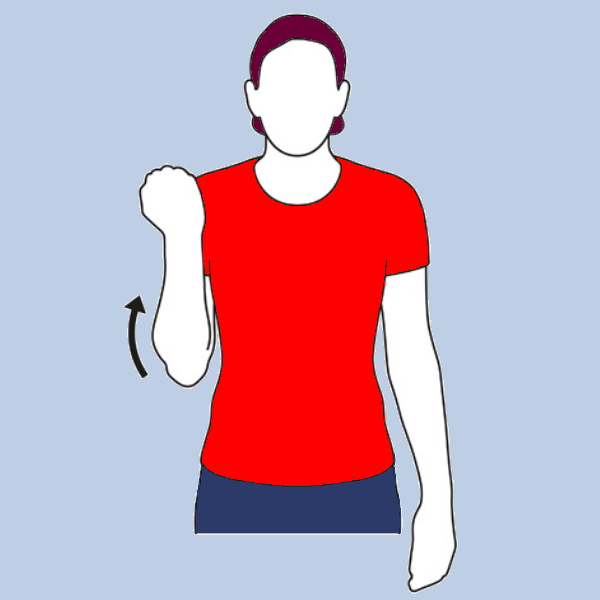 Stand up straight and lower your arm to one side.
With light weight or no weight, bend your arm upward slowly until your hand is touching your shoulder.
Hold this position for 15-30 seconds and repeat 10 times.
2. Wrist Turn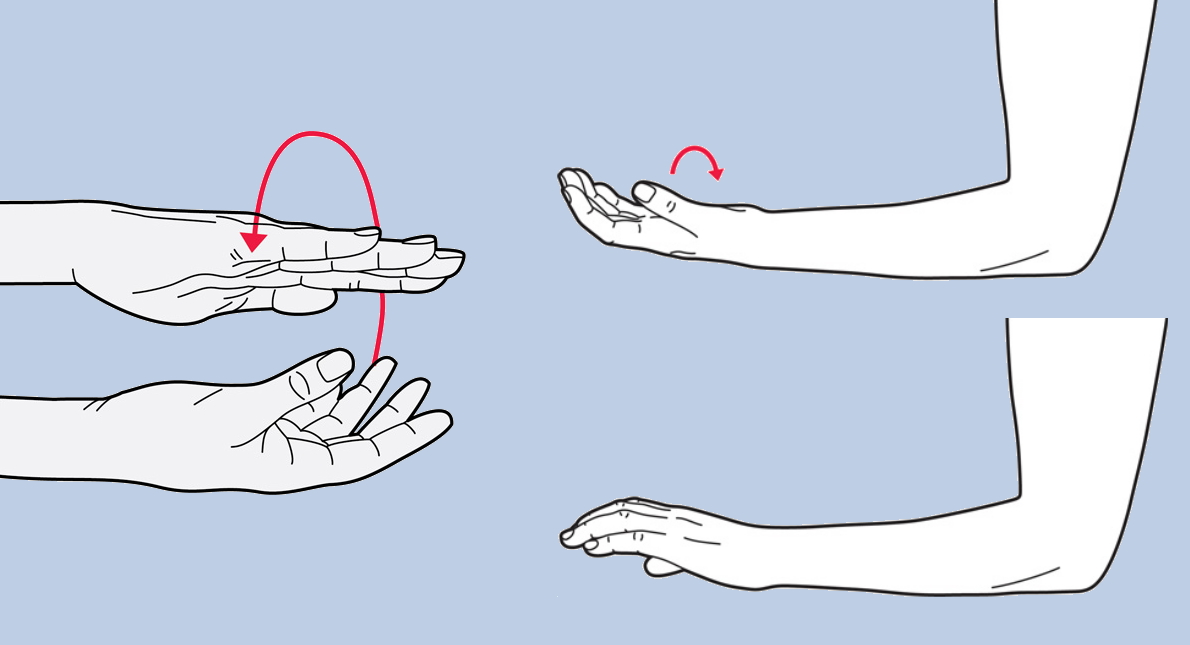 With light weight or no weight, bend your elbow at a right angle and hold your hand out with the palm facing up.
Turn your wrist slowly so that your palm is facing down.
Hold for five seconds, then release and reset 30 times.
3. Passive Flexion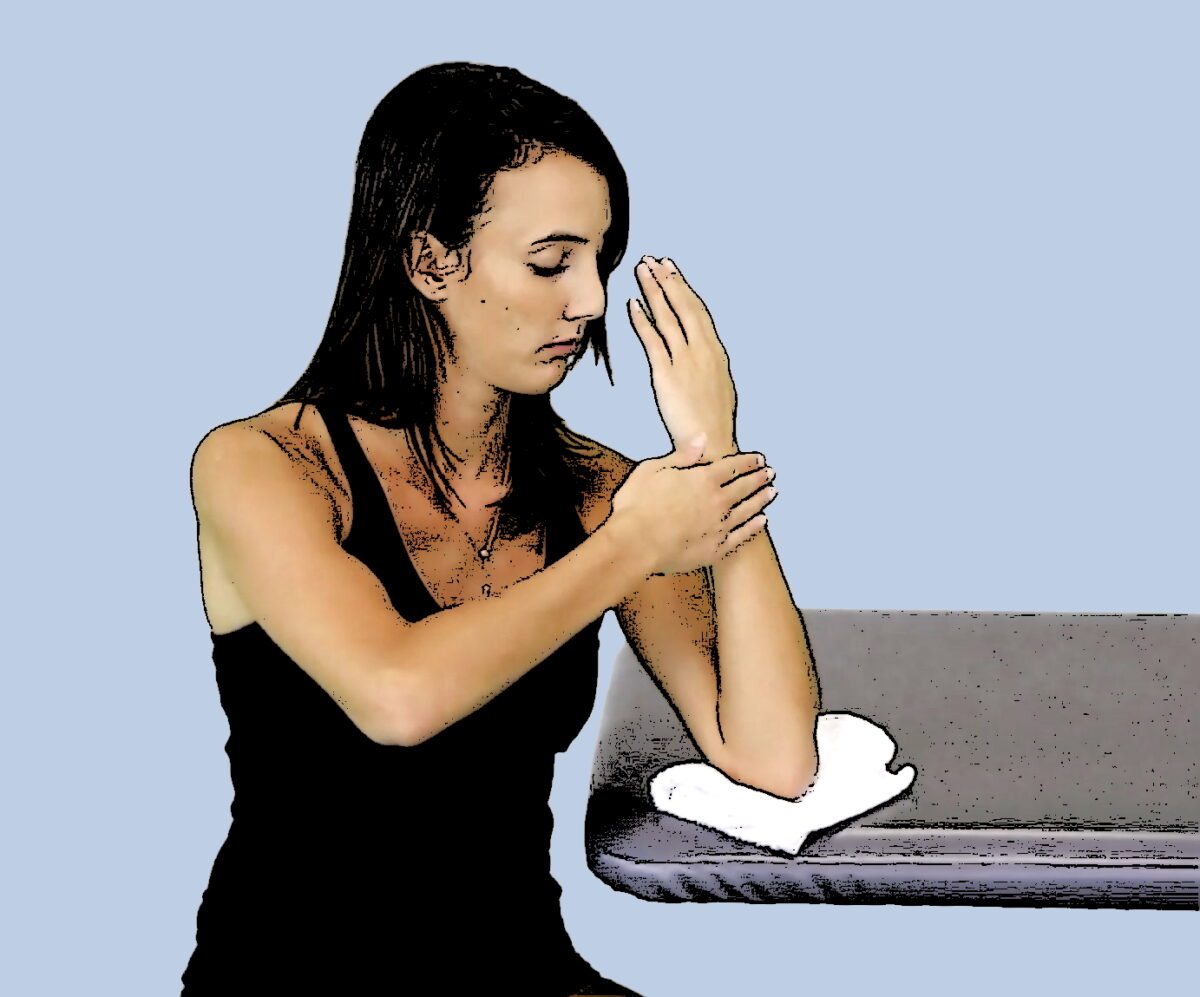 Support your elbow on a towel and use the other hand to gently bend your arm toward the same shoulder.
Be sure to keep the wrist straight.
Hold this position for one minute, then repeat four times.
4. Elbow Extension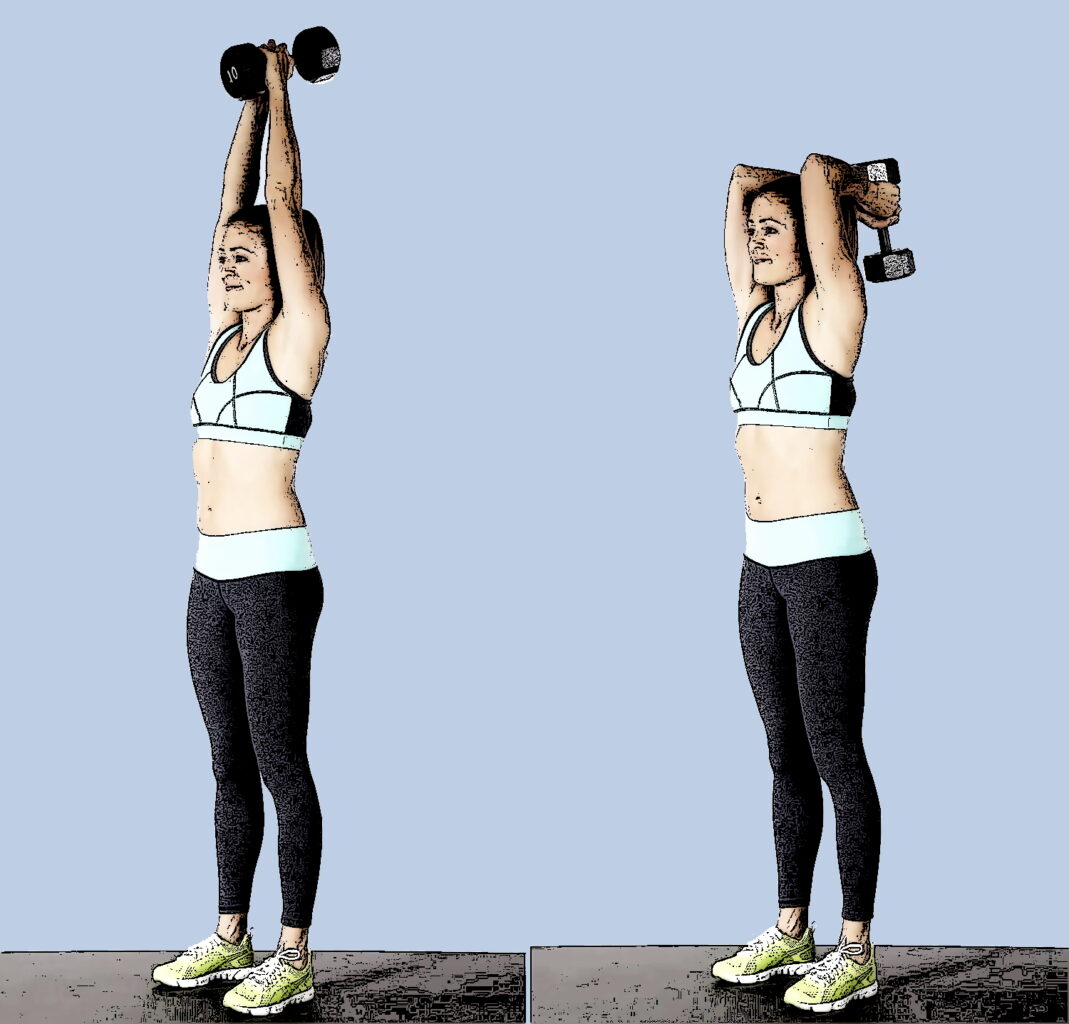 Using a light dumbbell, hold one arm straight above your head.
Bend your arm backward at the elbow until your arm can't go any further, then relax to the start position.
Complete 1-3 sets at 10 repetitions each.
5. Supination/Pronation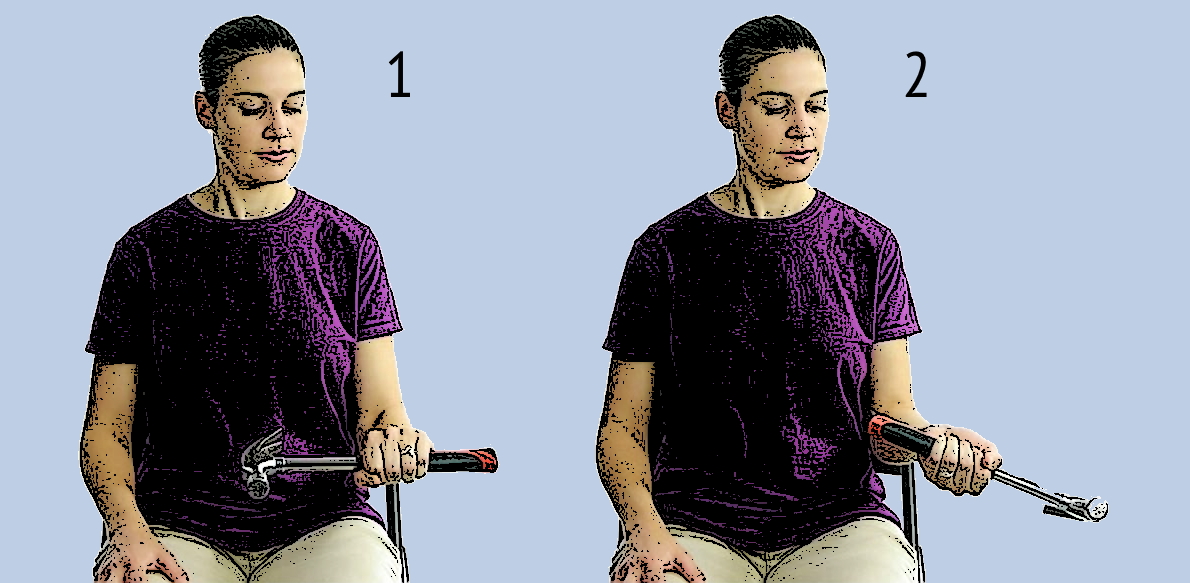 With your elbow resting on a table, grasp a hammer and lower it right to left, then back again.
Keep your wrist straight throughout the motion and control the motion.
Repeat this exercise 10 times.
6. Towel Twist

Sit back in a chair and hold a towel with both hands.
Twist the towel in opposite directions, like you're wringing out water.
Repeat 10 times before moving in the opposite direction for another 10 reps.
7. Foam Ball Squeeze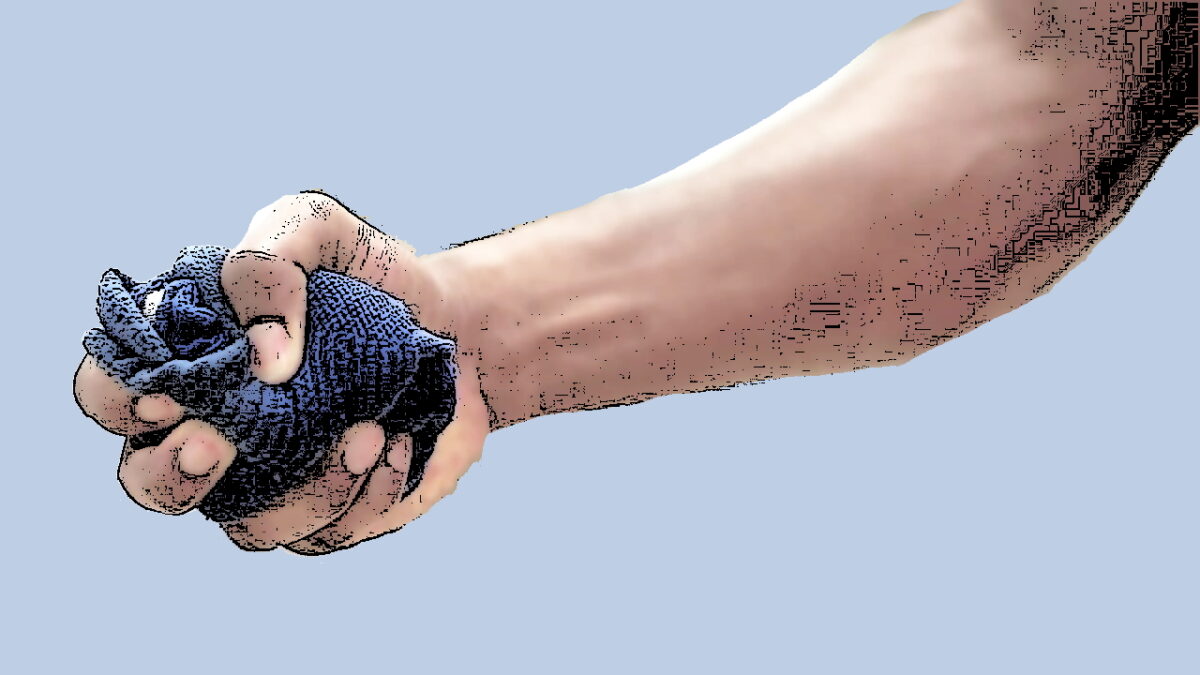 Hold and squeeze a soft foam ball in your hands.
Hold for 30 seconds, then repeat 10-15 times with both hands.
Do this exercise 2-3 times per week.
Call Fort Worth Hand Center for the Best Texas Orthopedic Doctors
Do you have an injured elbow? From the fingertips to the elbow, For Worth Hand Center orthopedic surgeons treat everything from sports injuries and joint replacement to chronic conditions, age-related complications, trauma, and more. While surgery is often the answer, physical therapy finger exercises can provide strength, stability, and function to your elbow, or strengthen your elbow after an injury, and get you back to doing what you love to do.
If surgery is the best course of action for your injured elbow or condition, our expert orthopedic surgeons are trusted and loved by patients all over Tarrant County, as evident by their reviews. To make an appointment, call 817-877-3277 or complete the form below.
Prior to starting any new treatment or if you have questions regarding a medical condition, always seek the advice of your doctor or other qualified health provider. This information is not a substitute for professional medical advice.
Fort Worth Hand Center serves the DFW area, including Fort Worth, Grand Prairie, Grapevine, Haltom City, Haslet, Hurst, Keller, Kennedale, Lakeside, Lake Worth, Mansfield, Newark, North Richland Hills, Pantego, Pelican Bay, Richland Hills, River Oaks, Saginaw, Sansom Park, Southlake, Trophy Club, Watauga, Westlake, Westover Hills, Westworth Village, White Settlement, Arlington, Azle, Bedford, Benbrook, Blue Mound, Burleson, Colleyville, Crowley, Dallas, Dalworthington Gardens, Edgecliff Village, Euless, Everman, Flower Mound, Forest Hill, and all of North Texas.
Fort Worth Hand Center
Average rating:
0 reviews