Drew was one of the biggest and toughest offensive linemen on his high school football team. He was recruited and continued to play in college as he prepared for a career in business management. He loved the game but one thing he found himself suffering from was a hand injury on multiple occasions. In one game alone, Drew jammed four fingers. In another, he broke a bone in his hand. Between all of that, he sustained sprains, strains, dislocations, and soft-tissue hand injuries that forced him to "play through" a considerable amount of pain.
Drew is tough, but you're mistaken if you think he's also accident-prone. Of all sports injuries, musculoskeletal pain is the number one reason both amateur and professional athletes visit their orthopedic sports medicine doctors each year. This is true even as more and more athletes take precautions before, during, and after games to limit serious injuries. Athletes who play contact sports such as football and hockey are particularly at risk of sustaining an acute, severe, and overuse hand injury, including:
Dislocations and separations
Sprains, strains, and fractures
Torn cartilage or tendon and ligament damage
Nerve compression
Muscle weakness
Arthritis
Lacerations
Whether you sustained a sports hand injury in football or from playing another sport, the last thing you want to do is ignore the condition. It is an orthopedic sports medicine doctor's job to get you back in the game safely and quickly. They have advanced knowledge of performance and health, physical conditioning, and soft-tissue biomechanics. They also routinely advise athletes of all ages on everything from proper nutrition to injury prevention.
Of All Football-Related Injuries, Hand Conditions Are Often Overlooked
When most people think of football-related injuries, they think of concussions and knee injuries. A hand injury is just as common, though, and it affects every position on the field. Whether an offensive or defensive lineman constantly grabbing at opponents, a wide receiver catching a fast-moving football and being tackled, or a quarterback constantly putting hands in harm's way while throwing the ball, you're at risk.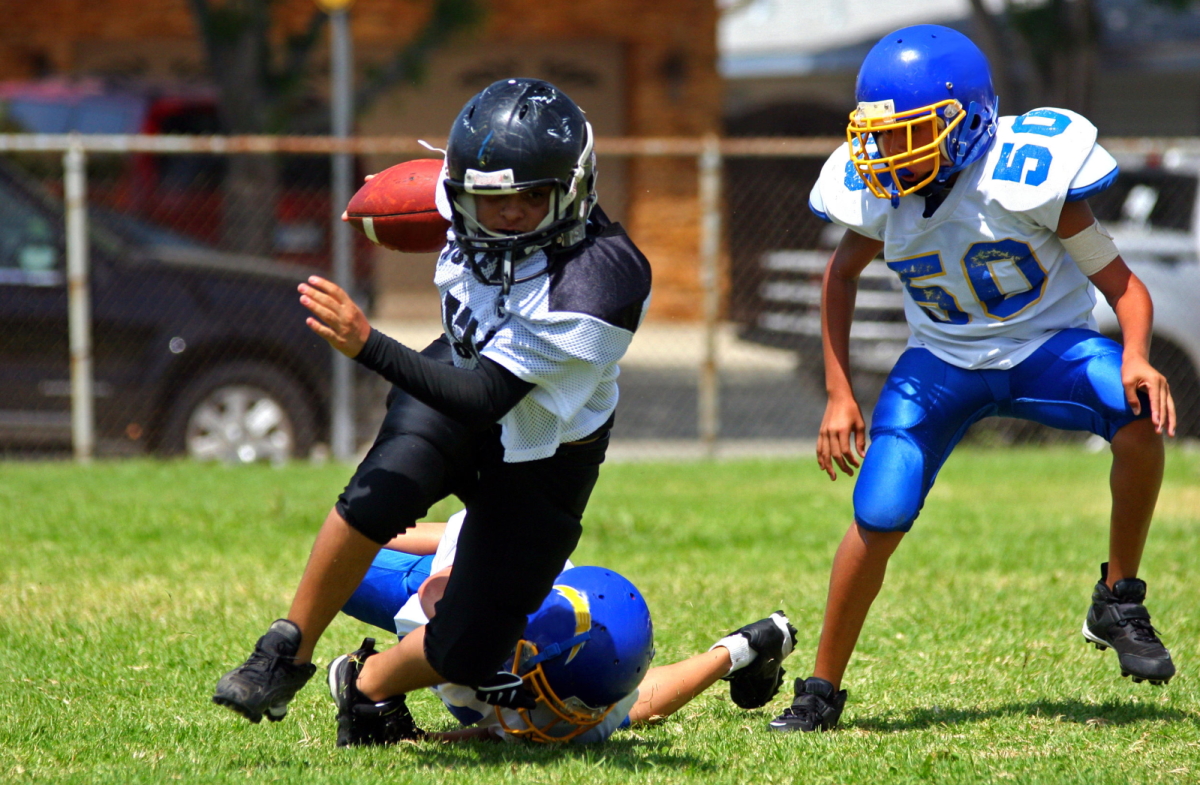 In a retrospective study of 1,385 documented hand injuries that occurred during 10 NFL football seasons between 1996 and 2005, 48% involved the fingers, 30% involved the first ray (thumb and first metacarpal bone), and 22% involved the hand. Offensive and defensive linemen were the most likely to sustain a hand injury. Eighty percent of hand injuries were metacarpal fractures.
The most common injuries to the first ray were fractures (48%) and sprains (36%), which occurred most often in athletes playing a defensive secondary position. Finger injuries were most commonly dislocations at the level of the proximal interphalangeal joint, typically involving the ulnar two digits. Finger injuries were most common in wide receivers and defensive secondary players.
The act of tackling produced the most injuries (28%).
Oddly enough, instances and severity of these injuries are often overlooked, diminished, or undocumented. This is because many times the player tapes it up and fights through the pain rather than being sidelined. This mindset was discussed in a 2012 article by Business Insider. The story included comments from former NFL players Plaxico Burress, Ronnie Lott, Anthony Munoz, Torry Holt, Michael Strahan, and Brian Baldinger, among others. Strahan, who won a Super Bowl with the New York Giants, even said, "You don't come out of a football game because of a finger (injury). They [other football players] would laugh at you."
All these players mentioned above and more would simply pop their finger back into place, tape it up, or splint whatever other hand injury they had and play through the pain. As a result, they each shared similar photos of mangled hands and fingers that they've continued to live with long after their careers ended. Lott's photo showed the tip of his left pinky finger, which was amputated so he could play more football.
What Is a Common Hand Injury from Football?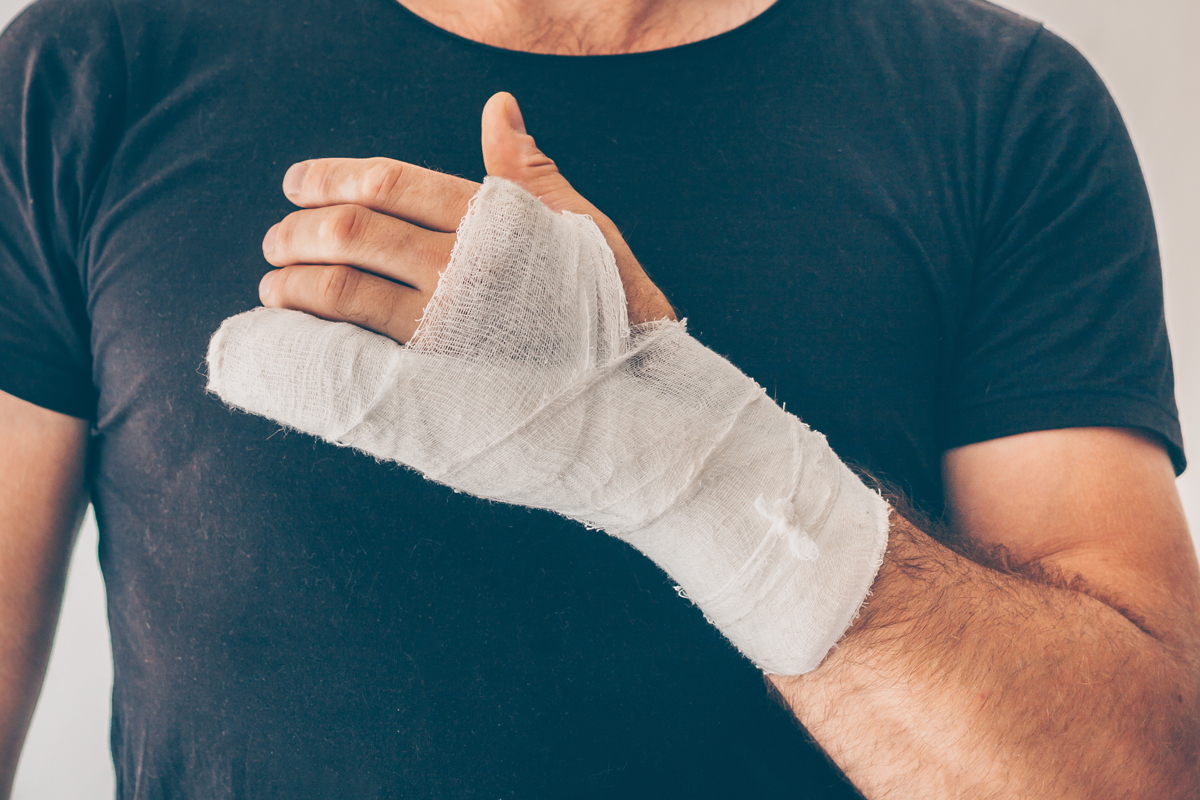 Here are the top nine football hand injuries:
Hand fracture — A hand fracture in football can happen in a variety of ways. An offensive or defensive lineman could smack or punch an opponent's helmet awkwardly or too hard with a closed or open hand. A player could also get tackled and break their wrist or hand upon bracing themselves when hitting the ground.
Jersey finger — When football players reach out to grab or block each other, it's not uncommon for a finger to get caught up and be forcefully extended while the tendons are trying to hold the finger flexed. This can cause a tendon rupture that limits the victim's ability to bend the tip of their finger.
Jammed fingers — This is one of the more common finger and hand injuries in all sports, and it occurs when the finger is compressed toward the hand. The greater the force, the more severe the sprain. Many football players don't miss any time from a jammed finger, though it can impact their ability to catch or throw a ball and will undoubtedly be painful when trying to block or tackle an opposing player.
Thumb sprain — This is a tendon injury caused by violently stretching or tearing the thumb away from the rest of the hand, usually while trying to block or tackle an opponent. Receivers can also suffer this injury while trying to catch a pass and often experience pain and swelling along the base of the thumb.
Hand strain — Much like you can pull or strain a leg muscle, hand strains are very common among athletes because of the constant stretching of the muscle fibers in your hands. While not as serious as a concussion or knee injury, his can lead to hand weakness and inability to throw or catch a football.
Broken wrist — Wrist fractures in football typically happen when a player falls onto an outstretched hand or direct impact on the wrist from a hard object such as a helmet, shoulder pads, or cleats.
Hand deformities — Repeated fractures of any bones in the hands, fingers, or wrist can cause a variety of deformities that cause an inability to move the affected joint and may require surgery.
Ganglion Cyst — Though typically not a painful condition, a ganglion cyst grows out of the tissue surrounding a joint or tendon and accounts for 60-70% of soft tissue masses found in the hand and wrist. They can be as small as a pea to as large as a golf ball, and they can also be soft or firm. Ganglion cysts are frequently found amongst gymnasts, weightlifters, and even football players whose careers demand repeated wrist and hand activities. They also tend to form near or on joints and previously injured tendons.
Mallet finger — If a ball or object strikes your finger hard enough, it could cause pain and swelling along the tip of your finger. Mallet finger is typically characterized by the inability to actively hold the tip of the finger straight.
How Can You Prevent a Hand Injury in Football?
Hand injuries in football are practically unavoidable given the violent nature of the sport. However, general prevention strategies include appropriate stretching and warming up before games and practices. There are also a variety of hand and finger strength and flexibility exercises that can limit injury or help an athlete rehab faster from an existing hand injury. Football players also wear protective gear such as gloves, taping, and splinting. This is especially true in the case of a previous injury, so as to avoid the possibility of causing additional damage to the affected area.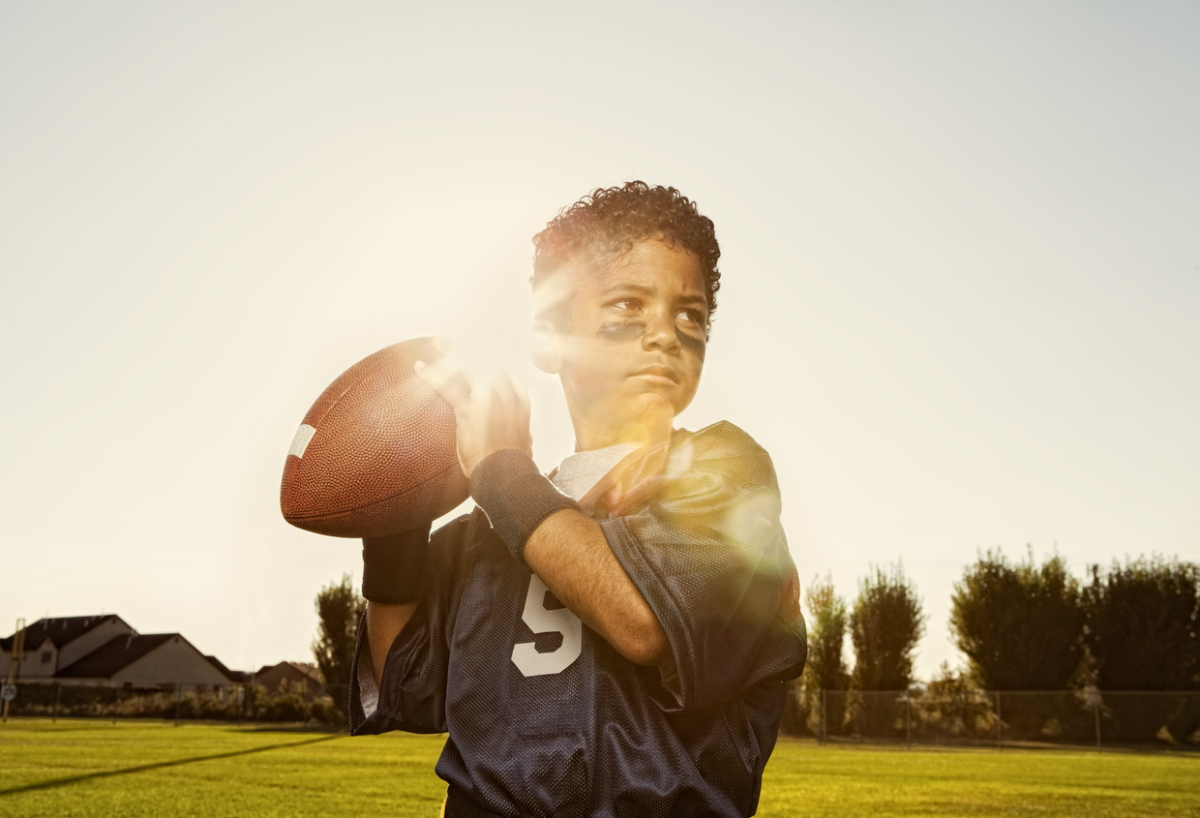 Another key factor is to not ignore a hand injury and visit with an orthopedic surgeon. This applies whether you play high school, college, professional or amateur, or you have a child who plays for an extra-curricular team. Your North Texas orthopedic sports medicine doctor will do a thorough exam. Your doctor will want to know as much as possible about the hand injury. This includes how it happened, how long ago it happened, the specific areas where you are experiencing pain, and how it has affected your ability to complete everyday tasks.
A trip to the orthopedic surgeon does not automatically mean you will need surgery. Sometimes conservative treatment such as physical therapy, cortisone injections, prescription medication, and good old-fashioned R.I.C.E (rest, ice, compression, and elevation) will go a long way toward relieving your pain. However, if surgery is the best course of action, finding a skilled and experienced orthopedic doctor to make the process as easy as successful as possible is key.
Have a Hand Injury from Football? Fort Worth Hand Center Is THE Place
Imagine treatment from healthcare professionals who cater to athletes. This is what our North Texas orthopedic sports medicine doctors do. We routinely work with football players from peewee level to college to the professionals who have suffered a variety of finger, wrist, and hand injuries due to the sport they love.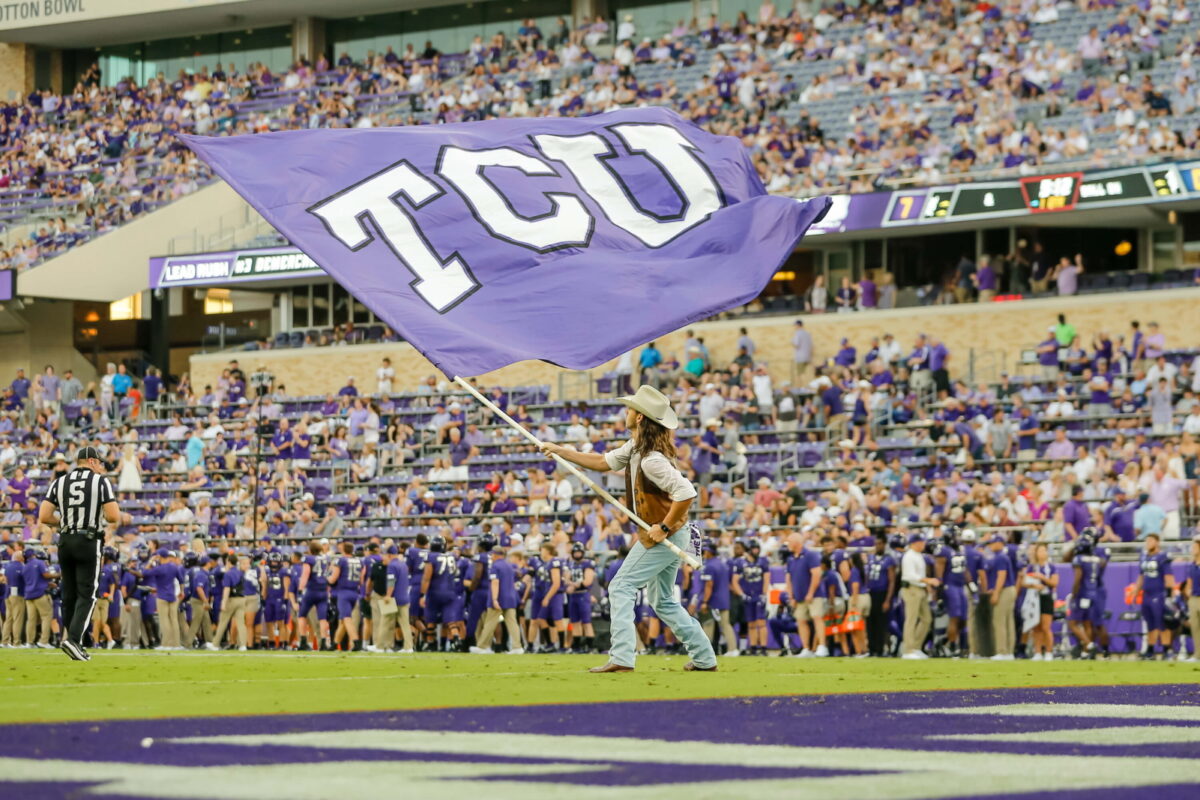 Fort Worth Hand Center is honored that our orthopedic doctors Eric Wroten, MD and Bryan Reyes, MD are designated as official Physician Consultants for TCU Athletics. They regularly work with the TCU athletes and are on the faculty. 
To make an appointment with the best orthopedic practice in Fort Worth, call 817-877-3277 or complete the form below.
This information is not a substitute for professional medical advice. Prior to starting any new treatment or if you have questions regarding a medical condition, always seek the advice of your doctor or other qualified health provider.
Fort Worth Hand Center serves the DFW area, including Flower Mound, Forest Hill, Fort Worth, Grand Prairie, Grapevine, Haltom City, Haslet, Hurst, Keller, Kennedale, Lakeside, Lake Worth, Mansfield, Newark, North Richland Hills, Pantego, Pelican Bay, Richland Hills, River Oaks, Saginaw, Sansom Park, Southlake, Trophy Club, Watauga, Westlake, Westover Hills, Westworth Village, White Settlement, Arlington, Azle, Bedford, Benbrook, Blue Mound, Burleson, Colleyville, Crowley, Dallas, Dalworthington Gardens, Edgecliff Village, Euless, Everman, and all of North Texas.