Now that you're outdoors more often and enjoying the warm Texas weather, you may have noticed that your elbow is bothering you after those extra rounds of golf and pick-up softball games. The orthopedic doctor told you that it's a mild bout of golfer's elbow, but now you're worried that the rest of your summer might be put on ice.
Don't worry. Golfer's elbow, just like many overuse injuries, can affect anyone and may even heal on its own. However, you should follow your doctor's instructions, which will likely include rest, to avoid this condition getting worse.
Symptoms of Golfer's Elbow
Your doctor will provide a proper diagnosis, but common golfer's elbow symptoms include:
Pain or burning on the inner part of the elbow
Difficulty flexing the wrist toward the forearm
Forearm, hand, and wrist pain
Numbness, tingling, and stiffness
Difficulty making a fist
Pain when shaking someone's hand
Difficulty moving the elbow
Swelling and tenderness
Why Do They Call It Golfer's Elbow If I've Never Picked Up a Club?
Medial epicondylitis or golfer's elbow is the opposite of tennis elbow. The pain and inflammation are located on the inside of the elbow—rather than the outside—where the forearm muscles connect to the bone. When the tendon is overused due to repeated hand, arm, and wrist motions, the site becomes aggravated and causes pain.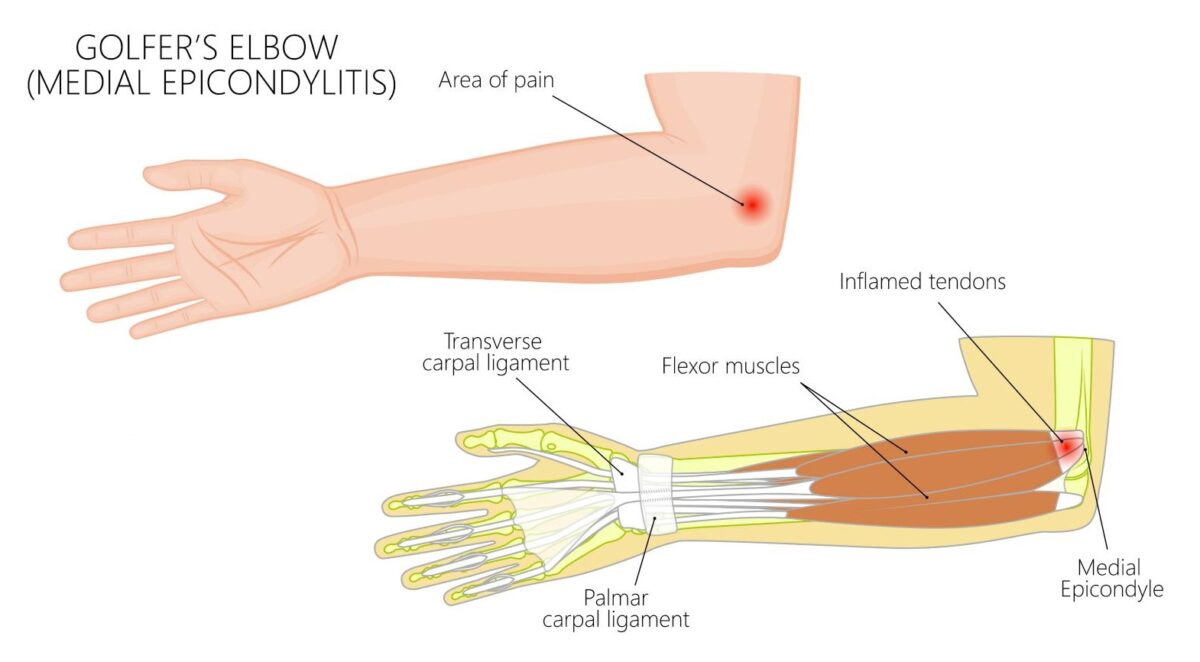 The condition affects men more than women by a ratio of 2:1. It is referred to as golfer's elbow because the tendon is typically stressed while making a golf swing with a non-overlapping grip. It is also known as baseball elbow, suitcase elbow, or forehand tennis elbow. Therefore, you can get it even if you've never picked up a golf club. Musculoskeletal pain is the No. 1 reason people visit their doctors each year. It is very common to be referred to an orthopedic doctor for further evaluation on elbow pain regardless if you play sports or not.
Those who experience golfer's elbow are everyday people just like you who do repetitive lifting, turning of the wrist, gripping, or similar movements, including painters, mechanics, construction workers, plumbers, and carpenters.
Risk Factors for Golfer's Elbow
Other possible risk factors for golfer's elbow include:
Carrying a heavy suitcase for extended periods
Chopping wood with an ax
Using a computer regularly
Frequent use of other hand tools (screwdrivers, raking, etc.)
Sports that involve a lot of throwing or swinging (baseball, tennis, javelin, etc.)
A direct blow to your elbow
Working on an assembly line
Gardening
Other manual work
Treatment Options for Golfer's Elbow
Many cases of golfer's elbow can be treated conservatively with rest—including avoiding movements that caused the condition in the first place. For you, that may mean cutting down on the number of rounds you put in each week at the golf course. For someone else, it might mean limiting work hours or spending less time using hand tools. The goal is to reduce inflammation and pain to improve range of motion. People who follow their doctor's instructions can make a full recovery within a matter of a few weeks, depending on the severity of their condition.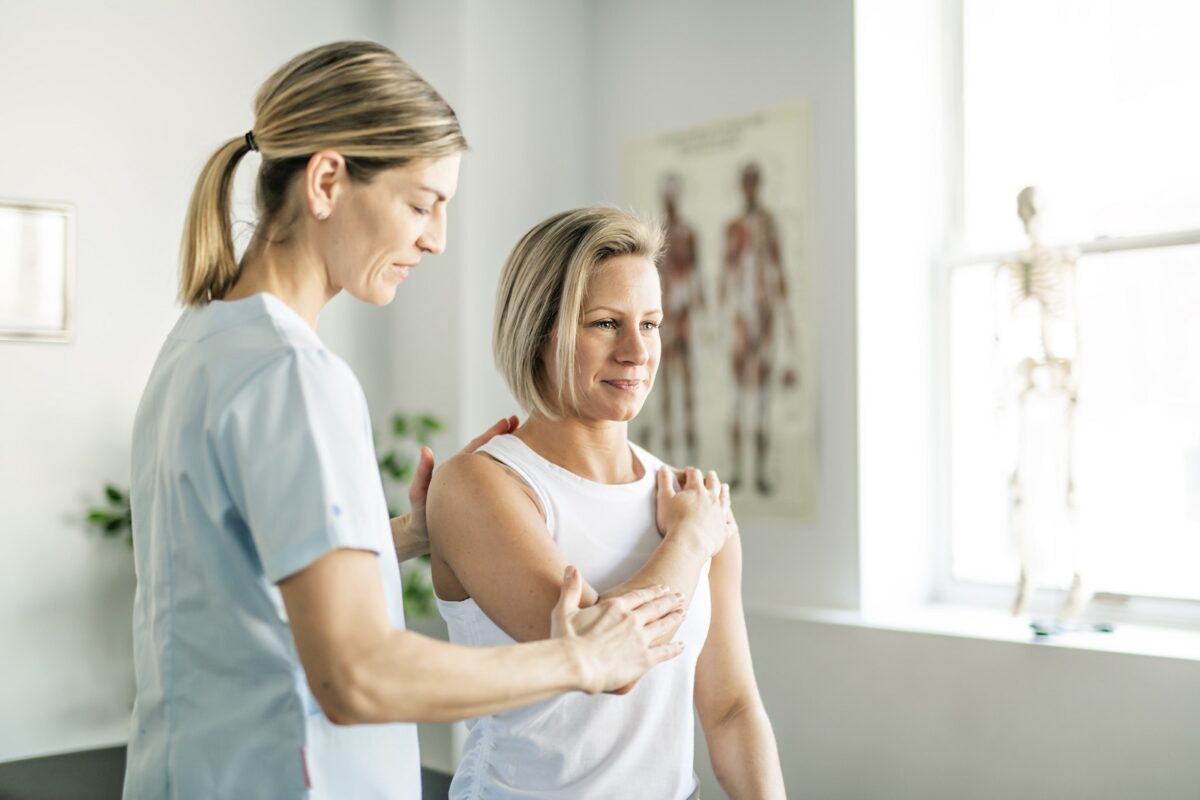 Your doctor will perform a thorough examination of your elbow, forearm, wrist, and hands while asking you a series of questions to determine if your symptoms are related to daily activities or a specific injury. In some cases, your doctor may perform additional tests such as X-rays, ultrasound, an MRI, and other lab tests to check for any other potential abnormalities. To aid recovery, treatment might also include.
Medications — Non-steroidal anti-inflammatory drugs to keep inflammation low and reduce symptoms.
Strengthening exercises — Physical therapy along with light stretching of the forearm are highly effective.
Support braces — Using a brace around your elbow and forearm provides extra support when activity is a must.
Alternative therapies — Chiropractic and acupuncture relieve nerve interference and improve physical function.
Corticosteroid injections and surgery — Corticosteroids can reduce inflammation in severe cases of golfer's elbow. If necessary, your doctor may recommend surgery.
Get Back to Active Weekends with Fort Worth Hand Center
Do you miss participating in summer activities due to golfer's elbow? The best orthopedic surgeons in Fort Worth are at Fort Worth Hand Center. Our expert physicians provide treatment options for chronic conditions, trauma, and injuries to get you active again. To schedule an appointment, call 817-877-3277 or complete the form below. Weekend warriors are welcome at Fort Worth Hand Center!
Prior to starting any new treatment or if you have questions regarding a medical condition, always seek the advice of your doctor or other qualified health provider. This information is not a substitute for professional medical advice.
Fort Worth Hand Center serves the DFW area, including Burleson, Colleyville, Crowley, Dallas, Dalworthington Gardens, Edgecliff Village, Euless, Everman, Flower Mound, Forest Hill, Fort Worth, Grand Prairie, Grapevine, Haltom City, Haslet, Hurst, Keller, Kennedale, Lakeside, Lake Worth, Mansfield, Newark, North Richland Hills, Pantego, Pelican Bay, Richland Hills, River Oaks, Saginaw, Sansom Park, Southlake, Trophy Club, Watauga, Westlake, Westover Hills, Westworth Village, White Settlement, Arlington, Azle, Bedford, Benbrook, Blue Mound, and all of North Texas.